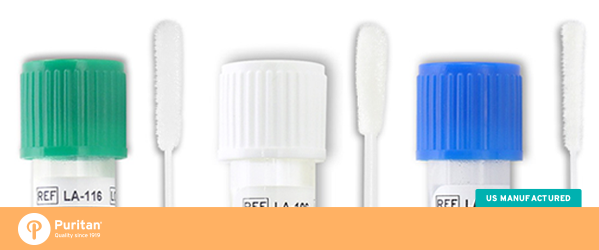 We are no longer just a source for cotton tips and tongue blades. Puritan has evolved into a fully-integrated medical device manufacturer of patented flocked swabs, and a developer of complete specimen collection systems for diagnostics, environmental sampling, and research. All manufacturing—including formulation and fill operations— is still done 100% in the United States, in Guilford, Maine.
We've created this guide to our sampling kit swabs to help you find exactly what you need. Don't see it in this post? One of our knowledgeable product specialists can help you, or we'd be happy to talk about customization options!
A Broad Range of Media Products in Devices Engineered for Ease of Use
Transport Media
UniTranz-RT®: Intended for transport of viruses as well as Chlamydia, Mycoplasma, and Ureaplasma bacteria specimens. These contain antimicrobial agents and incorporate glass beads for efficient vortexing. Available with a select offering of tipped applicators or as stand-alone vials.
Opti-Swab®: Combines Liquid Amies medium with Puritan's patented HydraFlock® swab and provides the ideal environment to protect aerobic, anaerobic, and fastidious bacteria viability for transport to the lab. Proven compatible with automated instruments and reliable for molecular transport.
Opti-Tranz® transport media with spun rayon swabs for specimen collection from various sites. Opti-Tranz® Plus brings you this same media with Puritan's HydraFlock® swab for increased efficiency of collection and release.
Liquid Media: Compatible with culture and gram stain processes as well as rapid tests, these are best for aerobic bacteria. With a polyurethane foam medium reservoir.
Amies Gel Media: Semi-solid for aerobes, anaerobes, and fastidious bacteria. With spun rayon swabs and a choice of three shaft styles, with or without charcoal.
Enrichment Media
These media incorporate components ideal for specific microorganisms. The enrichment medium environment supports the growth of that selected microorganism while inhibiting the growth of others.
CT Broth: Liquid for the isolation and cultivation of Candida and Trichomonas.
LIM Broth: Liquid to test for Group B Strep in expectant mothers.
MRSA: Liquid for transport of antimicrobial resistant organisms, particularly Staphylococcus aureus.
Regan-Lowe: A semi-solid medium for transport of Bortadella (whooping cough).
Selenite Broth: Liquid for the isolation of Salmonella and Shigella.
Sputum: Liquid used to liquefy sputum specimens for the isolation of bacteria and fungi that cause respiratory infections. Does not promote growth but facilitates recovery. Available with or without transfer pipette.
Maintenance Media
Cary Blair: For fecal pathogens such as E. coli, Salmonella, Shigella, Vibrio, VRE, Yersinia, C. dif.
Fecal Opti-Swab®: Cary Blair medium with Puritan HydraFlock swab. A complete collection and transport device.
Molecular Preservative
Our DNA/RNA stabilization solutions for the preservation of molecular specimens. These products are designed to ensure specimen integrity in transport and storage at room temperature and to reliably preserve DNA and RNA. They will be offered with Puritan's HydraFlock swabs or as a standalone product.
If You're Interested in Dry Transport...
Check out our transport tubes with a full range of swabs, single and double. For environmental sampling, see our ESK®/EnviroMax® line of products.

Not finding the specimen collection system you're looking for? Don't worry— one of our knowledgeable product specialists can help you, or we'd be happy to talk about customization options!