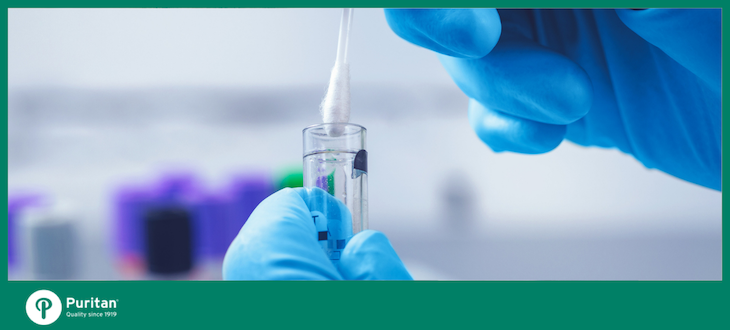 The accuracy of a medical diagnosis begins with two key components: the right tool for collecting an ample amount of a viral sample and careful storage of that material as it is transferred to a laboratory for analysis. Viral samples can rapidly decay if not stored appropriately during transport. This is why it's vital to select the right viral transport media.
Below we'll define viral transport media and when it is used, explain the typical components and options, as well as the average price range for viral transport media.
What is viral transport media?
Viral transport media is a solution that allows for the safe transfer of viral samples to a laboratory for analysis. In many cases, this is a liquid that creates a balanced buffer solution for maintaining a neutral pH, antimicrobial agents, a source of protein, and sucrose that serves as a preservative.
Without ultra-low temperature storage or appropriate viral transport media, many viral specimens will begin to degrade rapidly. This increases the risk of a false-negative result during analysis at the laboratory.
What are the components of viral transport media?
A viral transport system depends upon more than the viral transport media solution. In fact, there's growing evidence that dry transport tubes can also be highly effective in maintaining viable samples during transport. As a result, a successful viral transport system depends upon the effectiveness of a number of key components.

1. Viral transport tube
Viral transport media is included in a sterile tube typically made of premium medical grade plastic. Some tubes may be formulated to contain buffered proteins and antibiotics that suppress the growth of potentially contaminating bacteria and fungi.
2. Viral transport cap
A securely closed transport tube is critical for protecting the sample specimen from contamination during transport. Many tubes feature screw caps designed for secure closure and ease of use, while other transport tubes may feature a plug top for a secure seal.
3. Collection swab
Some viral transport media and transport systems are formulated to work with a specific type of swab. Not all swab materials are suitable for viral testing. For example, nasopharyngeal swabs cannot be made with cotton as organic materials interfere with the polymerase chain reaction (PCR) testing process. Some manufacturers sell swab kits that include viral transport systems, to eliminate any confusion around the right components.
Common viral transport media uses
Viral transport media is used for the preservation of a wide range of viral specimens, including infections that are difficult to diagnose on the spot and instances where knowing a specific viral strain can support diagnosis or population health efforts. Common viral transport media uses include:
Influenza virus: Universal viral transport media help maintain viral respiratory swab sample viability at room temperature for a number of days, allowing for health experts to diagnose specific strains of influenza.
SARS-CoV-2: According to the FDA not all transport media are compatible with SARS-CoV-2 testing platforms, as there is a risk of exposure to harmful cyanide gas. This gas is a byproduct of a reaction between specific chemicals used in some transport media and the sodium hypochlorite used in some SARS-CoV2 testing platforms or laboratory processes. As a result, it is important to select viral transport media cited for use in coronavirus testing or approved for this use by the FDA.
Enterovirus D68: This non-polio enterovirus has proven to be challenging to test for because on-the-spot tests cannot always perform the analysis necessary to attribute the virus to a particular strain of enterovirus or altogether different respiratory illnesses.
Viral transport medium price
Viral transport media can range in price, depending on a number of criteria, such as whether you are purchasing the transport media alone, a transport system, or a complete sampling kit. The viral transport medium price will also range based on the type of swab included in a sampling kit.
For product availability and viral transport media pricing, please check out our How to Buy page or contact your sales representative for assistance.
Viral transport medium product examples
There are a number of different virtual transport medium products to meet the needs and price considerations. Selecting the right viral transport media depends upon the type of sample you're transporting. Some of the most common viral transport products include:
Conclusion
For the most accurate diagnosis, it's important to think beyond specimen collection and consider the journey your viral sample takes to the lab. Ensuring viability during this transport time is more critical than ever as laboratories manage higher testing demand even in the wake of the coronavirus pandemic.
If you're not sure which viral transport media might be right for your specific needs, or best serve a broad range of uses, Puritan can help. Contact one of our experts with questions at any time.