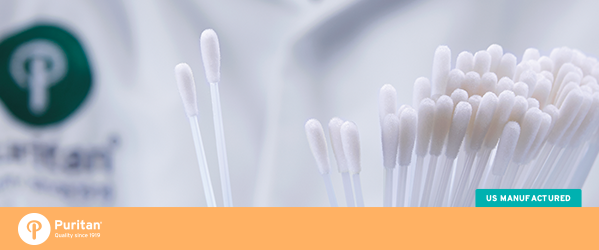 You're ready to develop a cutting-edge lab kit.
Where do you go for the manufacturer who can meet your product specifications, dock dates, and price point? A partner who will listen and provide guidance along the way? If your kit requires a specimen collection swab or transport media, you go to Puritan!
Puritan, established in 1919, has evolved to become the premier custom manufacturer for your needs. A registered US FDA Medical Device Manufacturer since 1978, we've become known worldwide as the most trusted manufacturer of swabs. Our winning team includes a well-equipped and staffed formulating lab, state-of-the-art printing capabilities, and a talented R&D team to develop your custom product.
Where do you start with a custom product? Get in touch to discuss your project and determine feasibility. Puritan will consider these important factors:
Number of units needed (as a rule of thumb, it makes sense to discuss customization if you require 100,000 pieces or more)

Complexity of device design

Requirements for labeling and packaging components

Your target acquisition cost
Puritan has experience in all areas of customization, so we can work through these details over a few conversations. Once the project is in motion you can relax, knowing the work is in capable hands. Art files and prototype samples will be provided for your review and approval before the project moves forward.
Finally, once all is as expected and approved, pricing will be finalized and production can be scheduled.
Things to keep in mind:
Clarity is key. Everything, from our first conversation to the finished product, can be streamlined when project details are clear at the outset.

Retooling is costly. An estimate will bring your project into focus and help you prioritize features.

Sterilizing products adds time. Plan on at least 12 weeks and additional cost for sterile products and their special markings.

Color adds cost. Multi-color print is effective, just be sure to budget for the extra expense.

Puritan is a manufacturer. We can develop a specimen collection and transport device and provide it as one unit, bulk-packed and shipped to your specified destination. We are not a fulfillment house and so don't handle the logistics of serial and/or multiple shipments to end users. We will be happy to help you identify a business that provides this service.

Puritan works with resellers and OEMs. We'll sell to those that provide a current resale certificate for the destination location. If you cannot provide this certification, we'll help you identify a reseller that will work with you to facilitate the purchase of your custom product.
Our skilled research and development team is always eager to provide custom solutions, including configurations and packaging, private labeling, and custom media filling. Simply tell us what you want to accomplish, and we'll develop a product configured to your specifications.
We look forward to hearing from you, so contact Puritan today!