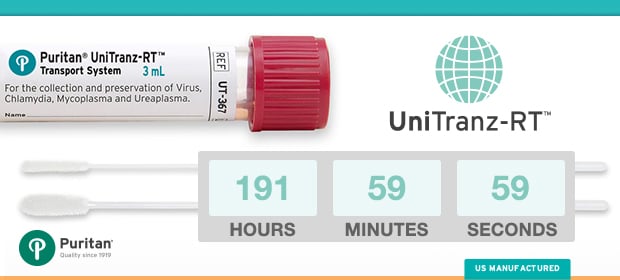 Multiple strains of viral respiratory infections were detected in qRT-PCR when stored for up to 192 hours at room temperature in Puritan's UniTranz-RT® Universal Transport System, according to a recent study presented at the 30th Annual Clinical Virology Symposium and the 114th General Meeting of the American Society for Microbiology.
Studies Validate UniTranz-RT® Viral Transport Medium for Long-Term Storage
As most laboratories and POC diagnostic healthcare facilities gravitate toward molecular assays with improved sensitivity and specificity, it is essential that a transport system be able to preserve specimen for use in molecular methods as well as traditional cell culture methods for diagnosis of influenza and other respiratory viral infections.
UniTranz-RT Proves Advanced Universal Transport Medium
Global viral infections account for 80% of respiratory infections that are common in infants, young children and elderly. Proper collection and transport of respiratory specimens are a critical pre-analytical step in the diagnosis of viral infectious diseases.
With the intent to introduce a viral transport medium system that could support preservation of specimen for both rapid molecular tests and traditional cell culture methods, Puritan developed UniTranz-RT, a versatile universal transport medium that is suitable for collecting and transporting patient specimens harboring influenza viruses and related respiratory pathogens.
UniTranz-RT is stable at room temperature and designed for the collection, transport, maintenance, and long-term storage of several other types of viruses.
View the CVS Poster Presentation
View the ASM Poster Presentation