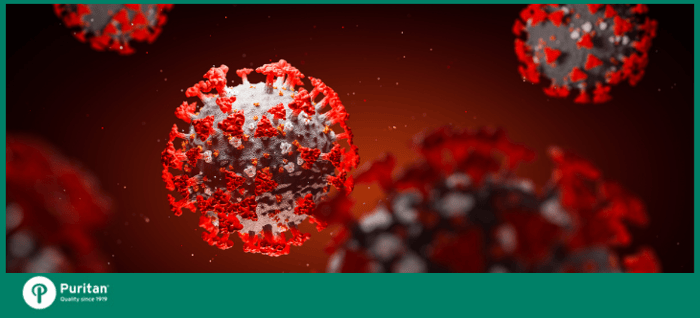 As the health care community prepares for flu season, one key challenge is discerning whether patients have COVID-19 or seasonal influenza, given that both illnesses have similar symptoms. A laboratory test is needed to accurately diagnose either ailment. This increased need for testing has potential to tax a healthcare system that's already severely resource-constrained.
What is the combined nasal test for flu and COVID-19?
A combined nasal test for the flu and for COVID-19 is a single swab test designed to look for both the flu virus and COVID-19 virus. Health care providers now have the option of providing a combined nasal test to detect the presence of COVID-19 and influenza A and B.
This multiplex test is performed the same as the COVID-19 swab test. The test swab is inserted straight back horizontally to the nasopharynx until resistance is met, and rotated up to five times for 5 to 10 seconds.
Due to the similarity of flu and coronavirus symptoms, the multiplex test provides much needed rapid direction as to how to treat a patient's medical needs.
Dual flu and COVID-19 tests have been approved
Fortunately, several multiplex tests that can detect both flu and COVID-19 have been issued emergency use approvals from the FDA. The CDC Influenza SARS-CoV-2 Multiplex Assay is a real-time reverse-transcriptase polymerase chain reaction (RT-PCR) that can detect and differentiate RNA from SARS-CoV-2, influenza A virus and influenza B virus in upper and lower respiratory specimens.
At the time of publication, several similar tests have also received FDA authorization, including Qiagen's QIAstat-Dx, Roche's cobas®, BioMerieux's BioFire and a dual test from LabCorp that can also diagnose respiratory syncytial virus (RSV).
Flu test versus COVID 19 test
The biggest benefit of the multiplex test is that it does not delay treatment while health care providers work to diagnose the specific cause of a patient's symptoms. Given the overlap in symptoms between influenza and COVID-19, this is critical. While symptoms can range in severity for both COVID-19 and flu, both illnesses share many common symptoms.
| | | |
| --- | --- | --- |
| Symptom | Flu | COVID-19 |
| Fever or chills | Yes; often lasts 3-4 days | Yes |
| Cough | Yes | Yes |
| Shortness of breath or difficulty breathing | Yes | Yes |
| Fatigue | Yes | Yes |
| Sore throat | Sometimes | Yes |
| Runny or stuffy nose | Sometimes | Yes |
| Muscle pain or body aches | Yes; often severe | Yes |
| Headache | Yes | Yes |
| Vomiting and diarrhea | Sometimes; more common in children | Yes |
| Change in or loss of taste or smell | Sometimes | Frequent |
Source: CDC
The benefits of combined Flu and COVID testing

Normally two swabs would be needed to detect COVID-19 and influenza, one swab for each type of test. A multiplex test, however, can be done with one swab for the benefit of patients and healthcare providers.
Better for patients: Taking one sample is faster for patients and also means less discomfort. Worried patients can also get comprehensive results more quickly instead of waiting for two test results.
Better for healthcare: A confirmed diagnosis allows medical professionals to make more informed treatment decisions. Dual testing frees up more laboratory resources, allowing labs to process up to three times more tests. Data from testing can help public health officials control the spread of both influenza and COVID-19.
Taking one sample is faster for patients and also means less discomfort. Worried patients can also get comprehensive results more quickly instead of waiting for two test results.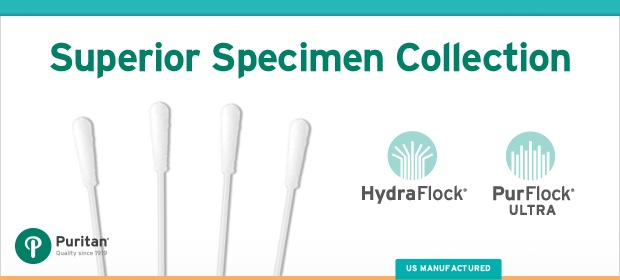 Puritan swabs can be used for combined flu and covid testing
As one of only two suppliers worldwide who produce the specialized swabs CDC recommends for nasopharyngeal sample collection, Puritan Medical has been at the epicenter of COVID-19 testing. Solutions like our HydraFlock and PurFlock sterile ultrafine flock swabs afford health care providers added certainty in diagnosing patients presenting with these common symptoms by providing better cell yield in the specimen compared to alternative solutions.
As COVID-19 testing in particular continues to evolve, Puritan continues to update its testing resources to connect healthcare providers with the best solutions for patient health and safety.
With the 2021 flu season underway, combined flu and COVID-19 testing may prove critical in relieving some of the pressure and provide quick, accurate information to patients, practitioners and the community at large.
Looking for more? Check out these printable PDFs on how to collect a nasal and nasopharyngeal specimen.