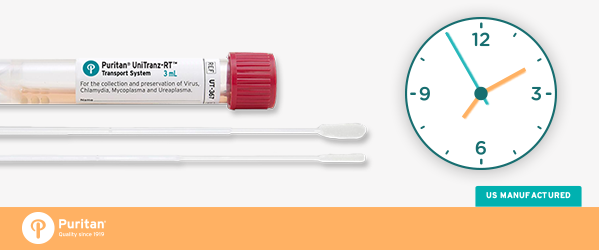 Did you know that treatment for influenza is most effective when implemented just 48 hours after the onset of symptoms? Having such a short window in which to help people puts tremendous pressure on healthcare professionals. Fortunately, advancements have been made in recent years that have reduced testing turnaround time (TAT) for patients.
Point-of-Care Tests (POCTs) for Influenza
Where tests were once done in batches and could take hours to yield results, random access molecular testing is now becoming more popular. These point-of-care tests (POCTs) can provide results in as little as 15 minutes.
The FDA approved the first molecular POCT for flu A/flu B—Alere's iFlu A and Flu B Test—in 2015. This test was later approved as CLIA-waived, which means the methodology used is so simple and accurate, the likelihood of erroneous test results is insignificant. Not long after, Roche's cobas Liat Influenza A/B POCT was also developed and CLIA-waived. And not only do test results come back in 15 to 20 minutes, but further testing to confirm the analysis is not required.
Other Advantages of POCTs
Though rapid TAT is the most obvious upside of POC testing for influenza, there are several other advantages.
In the past, diagnosis required sophisticated laboratory equipment and a highly skilled staff. But POCT specimens may be collected using a nasopharyngeal (NP), or throat swab, so conventional lab facilities are no longer necessary. Because smaller sample sizes and fewer reagents are needed, the tests can be performed in outpatient clinics, EDs, and doctor's offices. No special training for quality assurance and control is necessary.
Less Testing, Fewer Antibiotics Prescribed
Uncertainty in flu diagnoses can cause healthcare professionals to overprescribe antibiotics, underprescribe antivirals, and order unnecessary (and expensive) ancillary testing.
In "A National Study of the Impact of Rapid Influenza Testing on Clinical Care in the Emergency Department," researchers dug in to find out if flu diagnosed in association with rapid influenza diagnostic tests (RIDTs: a type of POCTs) reduces ancillary testing and antibiotic prescribing.
The study's authors identified patient visits in which RIDT was performed and/or influenza was diagnosed across three flu seasons. For two groups of patients in which RIDT was performed, ancillary testing and antibiotic and antiviral prescribing were evaluated. These groups were compared to a third in which influenza was diagnosed without the use of RIDT.

Of the 4.2 million visits where rapid influenza diagnostic tests were performed, 42 percent of influenza diagnoses were made in association with RIDT. Ancillary test ordering was lower (45 percent versus 53 percent of visits) for patients diagnosed with flu. There were also fewer antibiotic prescriptions (11 percent versus 23 percent), and antiviral use was higher (56 percent versus 19 percent) when the diagnosis was made in association with RIDT.
Factors Impacting POCT Results
Two important factors that impact test performance are patient age and the relationship between the disease stage and when the diagnostic test is performed.
Adult patients shed lower amounts of virus, and do so for less time, than pediatric patients. Consequently, the accuracy of POCT for influenza in adults is higher when they present to their healthcare provider soon after the onset of symptoms.
The type of specimen tested can also have an effect on test results. There are different specifications for different influenza POCTs, depending on whether the specimen is collected by nasopharyngeal, nasal, or throat swab. It's critical that the package insert in the test be followed to the letter as some require sample collection using a special swab.
RIDTs also require appropriate transport media if specimen collection and testing are not done at the same location. Again, healthcare professionals should work according to test specifications.
The Point Is Better Care
The ease of specimen collection and quick turnaround time of RIDTs allow professionals to make prompt decisions in treatments. Considering how unforgiving the flu can be, point-of-care testing seems more and more like the practical choice for flu diagnosis.