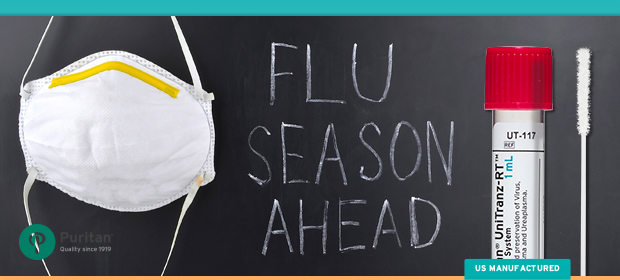 Indicators are pointing to a severe 2022-2023 flu season, making now the time to prepare your office for a swell in influenza test procedures.
Social distancing, mask wearing, and other steps taken to prevent the spread of COVID-19 have helped lower the transmission of influenza in recent years. However, with the lifting of mask requirements and greater availability of COVID vaccines has come the potential for an increase in influenza transmission. Australia, often used as a predictor for the U.S. flu season, has seen its flu case count pass pre-COVID numbers, leading to its worst flu season in five years. Experts note that the Australia flu season began eight weeks earlier than typical in many regions, a strong indicator of a severe flu season.
The Centers for Disease Control & Prevention (CDC) recommends individuals get vaccinated by the end of October, while emphasizing that vaccination after October still provides protection during the flu season peak typical of the winter months.
As you stock up on influenza test swabs and viral transport media kits, we recommend brushing up on critical resources to help guide your preparation in the months ahead. To that end, we've compiled a summary of helpful flu-related guidance below.
Is it COVID or the flu?
The similarities between flu and COVID-19 symptoms are a prime reason why healthcare providers should expect to conduct a high number of influenza test procedures this flu season. Your patients will want to rule out COVID-19, and get on the right path for treatment, as early as possible.
Diagnosing their illness will require testing, as both diseases share symptoms that include fevers, cough, shortness of breath or difficulty breathing, fatigue, and body aches. Fortunately, today's flu tests can also test for COVID with a single swab.
A multiplex test provides faster testing for SARS-CoV-2, influenza A and influenza B viruses. Patients get comprehensive results with less testing discomfort.
CDC resources for the 2022 flu season
The CDC is tracking instances of U.S. influenza activity in real time and updating its recommendations as needed. Critical guidance and resources to help you through the 2022-2023 flu season include the following:
Clinical resources for flu swab tests
The CDC should be your first reference when it comes to tracking instances of influenza in your community and state. When it comes to how best to test for influenza, Puritan Medical Products can help. Below are resources to guide healthcare practitioners and testing clinics in selecting the most effective tools and techniques for flu testing and diagnosis.
1. How to Swab for the Flu - The Complete Guide
A flu swab test is one of several options available for diagnosing influenza through analysis of nasal, nasopharyngeal or throat specimens. These tests require that a healthcare provider rotate a swab within the inside of the patient's nose, nasopharynx or the back of the individual's throat, then store and transport the swab for analysis according to the instructions for the specific test type.
While the procedure is relatively simple, accuracy depends upon using the right tools and technique. That's why we've created a handy infographic that you can reference online and/or print out for your office as a reference for your staff in handling flu season.
2. The Top 3 Methods for Diagnosing the Flu
Are you testing for rapid frontline diagnosis or public health reporting? Your priorities—speedy big-picture diagnosis or accurate insight into viral strains—will determine which method for diagnosing the flu might be right for your needs. In this resource, we break down your options and guide you to the most effective testing solutions for your objectives.
3. The best swab for flu testing
You have options when it comes to selecting an influenza test swab, but the most common swabs available may not be your best choice. That's right, traditional spun cotton-tipped swabs may be the most familiar single-use device in the medical industry, but they are not recommended for specimen collection.
The American Society for Microbiology recommends flocked swabs as the preferred specimen collection device for flu testing, due to its ability to collect and elute more specimen than traditional spun fiber or foam swabs. However, there are other options that can support influenza test procedures in a pinch, as described in this resource for choosing the right type of swab for diagnosing the flu.
Once you've selected the right influenza test swab, check out our step-by-step guide for how to swab for the flu.
4. What to look for in a specimen collection kit
Not sure which viral transport media is the best match for your influenza test swab? This is where a nasopharyngeal sample collection kit can help.
These kits include, in one easily accessible location, all of the pieces necessary for collecting a specimen from the nasopharynx and transporting it to the laboratory for analysis. That said, not all nasopharyngeal sample collection kits will feature the same components.
This resource explains what to look for when selecting the best nasopharyngeal sample collection kit for your needs.
Conclusion
Your patients may be anxious about getting the flu, but with all of the resources available to support clinicians there's no need to be nervous about diagnosis. Here at Puritan, we aim to make flu testing and diagnosis even easier by providing all of our flu resources in one place.
Check out our #FlocktheFlu portal and get all of these resources as part of one easy download!