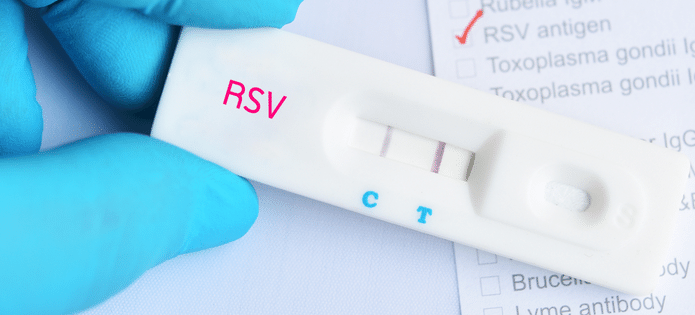 RSV is sweeping the nation and shows no signs of slowing down this year. In fact, CNN reports that the hospitalization rate for seniors with RSV is ten times higher than usual at this point in the season.
While medical providers, schools, parents, and family members are feeling the strain, some medical organizations like the Mass Medical Group are calling for mitigation measures.
Proper testing is critical to the identification and mitigation of RSV in both children and adults. In this article, we'll focus on what RSV is, what the common symptoms are, and the ideal testing swabs and materials for medical service providers to efficiently diagnose RSV.
What is RSV?
RSV stands for Respiratory Syncytial Virus. According to the CDC, RSV is a common respiratory virus that usually causes mild, cold-like symptoms. Most people recover in a week or two, but RSV can be serious, especially for infants and older adults.
RSV is the most common cause of bronchiolitis (inflammation of the small airways in the lung) and pneumonia (infection of the lungs) in children younger than 1 year of age in the United States.
RSV in infants and young children
Parents are particularly concerned about the spike in RSV because of its potential severity in infants and young children. RSV can be especially severe for children who:
Are born prematurely
Are 6 months of age or younger
Are less than 2 years old and have a chronic lung disease or congenital heart disease
Have a weakened immune system
Have neuromuscular disorders, including those who have difficulty swallowing or clearing mucus secretions
Most children will get RSV by the time they are two years old. And for many of those children, symptoms can be mild. But with cases on the rise, many parents are concerned for their families.
RSV in older children, adults, and seniors
But children aren't the only ones potentially severely affected by an RSV infection. Older adults also represent an at-risk age group.
Older adults are at increased risk if they are:
65 years old or older
Have a chronic heart or lung disease
Have a weakened immune system
How does an RSV swab test work?
The testing method may vary slightly depending on the age of the patient. According to the CDC, both rRT-PCR and antigen detection tests are effective methods for diagnosing RSV infection in infants and young children. For older children and adults, the CDC recommends that healthcare providers use highly sensitive rRT-PCR assays.
For the most up-to-date information on testing for RSV, please visit the CDC's detail page here.
There are two common methods for collecting specimens for RSV testing.
1. Testing via a nasal aspirate or wash
This is the most common way to collect a sample for RSV testing, especially for young children or infants. To perform a nasal aspirate test for RSV, a medical professional uses a saline solution (salt water) to flush out the nose and remove the solution with very gentle suction. The solution is then tested for the presence of RSV.
2. An RSV nasal swab test
Similar to flu and COVID-19 testing, a nasal swab test can be used for RSV specimen collection and diagnosis. A specialty swab is inserted into the nose and twisted gently in order to collect specimens for diagnostic testing.
Learn more about RSV testing on Medline's site here.
What are RSV swabs
RSV swabs are a medical-grade diagnostic swab that is designed to collect viral samples from a patient's nose. Using specialty materials and fibers, the swab can collect, hold, and release viral material for more accurate testing.
RSV swabs are similar to flu swabs and COVID-19 swabs. In at-home test kits, these swabs are sometimes one in the same.
RSV swabs for infants and young children

An RSV swab for infants and young children should feature a micro ultra-fine flocked tip material. Flocked swabs can provide superior collection and release of specimens. An infant swab will have a slightly smaller tip than adult versions, allowing for nasal specimen collection of RSV from small infant cavities.
Learn more about Puritan's pediatric RSV swab here.
RSV swabs for older children and adults

An RSV swab for adults should also feature a micro ultra-fine flocked tip material. Depending on the needs of the medical provider, different breakpoints in the swab tip are available including 80mm and 100mm. The unique microstructure of the RSV swab tip is designed to enhance rapid absorption and quick release of biological specimens. And the mini flock tip is ideal for patient comfort during the swab test.
Learn more about Puritan's RSV swabs here.
Did you know that Puritan offers 100% US-made products and complete customization capabilities? Talk to our sales team today.
RSV Universal Transport Medium

An RSV universal transport medium (UTM) is designed for the sterile collection of viruses like RSV. Look for a universal transport medium that contains antimicrobial agents to minimize bacterial and fungal contamination. Your RSV UTM can also include glass beads to better release and disperse sample into the medium during vortexing.
A RSV universal transport medium can be used in viral antigen tests, PCR, and rapid tests for RSV.
Learn more about Puritan's RSV universal transport medium kits here.
Why Buy Your RSV Swabs from Puritan
Puritan's medical products are 100% USA made. Our products for RSV testing are focused on both patient and provider comfort and ease. Our transport media uses premium medical grade plastic components to improve product shelf life.
Work with our sales team to customize your order today.