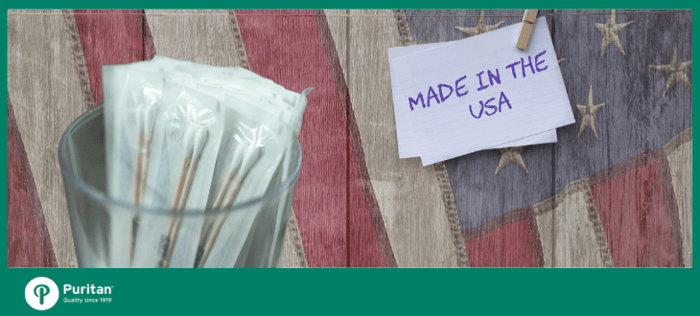 As a major supplier of swabs for a variety of industries and applications – and one of the US-based manufacturers of the preferred swabs for COVID-19 testing – we're proud of our long-standing tradition of producing the highest quality products right here in the USA. As many of our customers know, we've been manufacturing in rural Maine for over 100 years.
But when it comes to swabs, does "American made" really matter? It definitely does!
Here's one great reason we're extremely proud of:
Because Puritan swabs are made in the USA, at the onset of the pandemic, our country immediately had a primary source for COVID-19 testing swabs.
Here are a few more reasons why our customers prefer to buy our US-manufactured swabs.
Quality
Due to astronomical demand over the past year, the swab market has become flooded with swabs that don't necessarily adhere to the strict quality standards that Puritan is known for. And while "made in the USA" doesn't guarantee quality, we're proud to say that Puritan swabs are considered best-in-class for virtually any application.
Supporting the Economy
Buying American helps our country and communities retain good-paying manufacturing jobs – and sometimes even add them. With the addition of two new plants in the past year, Puritan has added over 800 jobs to our local economy. And when more of us buy U.S. products, it can benefit the national economy as well.
However, it takes a concerted effort to remain a strong and leading competitor in the swab market. Here are just a few of the challenges we are overcoming every day.
Recruiting Skilled Workers
One common challenge that many manufacturers share is recruiting and retaining workers. As a manufacturer in a rural area, it's even more challenging. We have a much smaller labor pool to draw from and it's not always easy to recruit workers from other areas of the country.
Plus, given that we're opening new production facilities to meet swab demand, we also are having to add hundreds of jobs quickly. Thanks to the help of our hiring agency, our internal HR team and our marketing efforts, we're rising to meet this challenge. And if you know great people, we're always hiring!
Innovation is key to our success, and we strongly encourage grassroot efforts from within our organization where some of our best ideas are born. We also take the time to learn what our customers need — and this collaboration results in new and unique applications and even more effective products.
Having the opportunity to build two new plants in the last 9 months has allowed us to streamline processes and production like never before. This will help us remain not only a strong competitor but a market leader for years to come.
You can learn more about all our American-made swab products on our website. To get the latest on swab production at Puritan, follow us on Twitter, LinkedIn or Facebook.