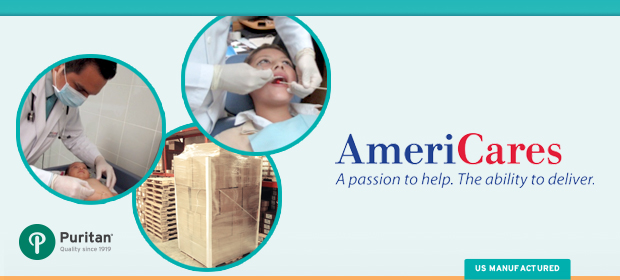 Last year Puritan donated 62 cases of swabs (weighing in at 749 pounds with a total value of $4,665) to AmeriCares. The organization, which provides essential medicines and healthcare supplies to vulnerable populations across the globe, especially values products that are versatile and appropriate for point-of-care applications. Here's the total donation breakdown of healthcare swabs that Puritan sent AmeriCares:
8" Rayon Tipped Applicator, OB/GYN: 10 cases

6" Polyester Tipped Applicator, Plastic Handle: 34 cases

6" Rayon Tipped Applicator, Plastic Handle: 13 cases

3" Rayon Tipped Applicator, Plastic Handle: 5 cases
AmeriCares distributes in-kind donations of medicine and medical supplies to people in need around the world and in the United States. This year, AmeriCares chose to distribute many of our donated swabs to its own AmeriCares Family Clinic in Santiago de María, El Salvador. Upon receiving our donations, the AmeriCares Family Clinic sent us the following product feedback report for how the 6" Rayon Tipped Applicators were used.
Description of the Donated Swabs
Packaging: A total quantity of 15,000 swabs were shipped to the Family Clinic. Packaged by the case (10 boxes of 5 bags per box; 100 swabs per bag = 5,000 p/case). "Composed of sticks of plastic material...6 inches in length, with rayon material compacted on one end, thus eliminating chance that fibers could cause discomfort to the patient; each package has a wrapper for easy handling."
Why AmeriCares Loves Puritan Swabs
"Quality: Due to the high quality of the swabs…risk of any kind of interference in safety [during] each of the procedures is eliminated…"
"Benefits to the patient: A donated input that does not add to institutional expenses, contributes directly to the patients by providing subsidized services while maintaining high standards of quality care."
"Institutional sustainability benefits: The annual cost of the product in the domestic market is $2,041.00. However, by having the support of a company known worldwide as a manufacturer of high quality health care products, such as Puritan Medical Products Co., LLC, the Clinic is able to spend that capital in the purchase of other supplies and the expansion of coverage and implementation of institutional projects. In this way the donated product contributes to our sustainability."
How AmeriCares Uses POC Swabs (By the Numbers)
Bacteriology (clinical laboratory): 200 units/year
Sampling of cultures of secretions

Eosinophils in nasal secretion

Investigation of environmental pollutants
Pediatrics:
3,600 units/year
Cures in infants and toddlers
Otolaryngology, Dermatology and Minor Surgery: 3,600 units/year
Application of medicines in ear

Cleaning and drainage of secretions from nose and ear

Retraction of turbinate for medications

Check nasal permeability by obstruction of turbinates

Application of hydrogen peroxide and drainage for cleaning of tonsils

Cleaning of tracheostomy cannulas

Taking samples of secretions for cultivation of tracheostomy and tracheostomy cannulas.

Application of medications for genital warts, and bleeding

Asepsis
Dentistry: 900 units/year
Application of anesthesia and topical medications

Disinfection of mucosal tissue

Cleaning of alveoli
Ophthalmology: 100 units/year
Extraction of foreign body in conjunctival cul-de-sac

Evaluation of permeability tear
Nursing: 100 units/year
Cures and applications of cream
Gynecology: 1,800 units/year
General medicine and other specialties: 3,600 units/year
Eyelid Evertir Visual examination of secretions

Make conjunctival sweep
To learn more about philanthropy at Puritan Medical Products, or for more information on how various organizations use our products, please don't hesitate to contact one of our product specialists today.