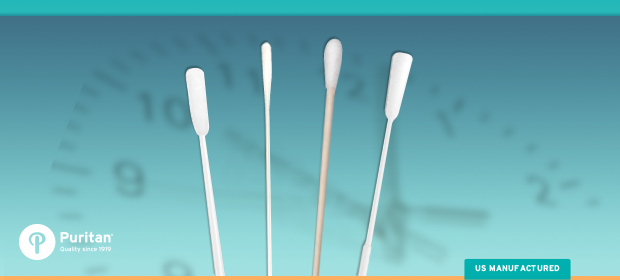 Have you ever wondered about the origin the swab? Yes? No? Whether or not you've given the history of the swab any consideration, there's no doubt you've utilized these handy tools for one of many diverse pursuits throughout your lifetime.
The swab as we know it today has been around for less than a century, yet nowadays these devices are used for everything from microbiology and forensics to beauty and manufacturing.
The History of the Swab
But where did the first cotton swab come from? According to qtips.com, the cotton swab was invented in 1923 by Polish immigrant Leo Gerstenzang.
Legend has it that Gerstenzang had his stroke of genius when he saw his wife affixing a wadded up piece of cotton to the tip of a toothpick. (Sounds dangerous!) As a safer alternative, Gerstenzang devised a ready made, one piece solution to cleaning hard to reach spots (like the ear); and thus, the cotton swab was born.
The Evolution of the Swab
Over the years, the swab has seen multiple evolutions. While you can still buy Q-tips at the drugstore, swabs today come in any number of shapes and sizes; and inventors are continuing to innovate on Gerstenzang's simple design. Now swabs are available with wooden, plastic, paper and metal handles, and any number of tip-types, like foam, sterile cotton, polyester, and flock.
While doctors today advise against using a cotton swab to clean the ear canal, these handy devices have made their way into dozens of useful applications. At Puritan, we have customers using our swabs to research wild elephant populations, provide lifesaving medical services in impoverished nations, test for the flu, and more.
Perhaps, without the ingenuity of a Polish-American named Leo Gerstenzang, we'd still be the Minto Toothpick Company, and you'd still be wadding up swaths of cotton to stick on to the tips our products. So let's hear it for Gerstenzang, the father of the swab!
Want to learn more about how you can use our swabs for diagnostics, DNA testing, industrial manufacturing, or specimen collection? Contact one of our knowledgable product specialists today.