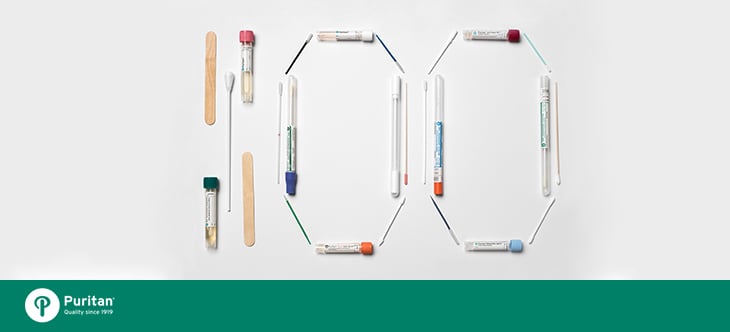 The year was 1919. Woodrow Wilson was president. Babe Ruth was playing his last season for the Boston Red Sox. And in Saginaw, Michigan, Lloyd Cartwright started the Minto Toothpick Company, creating and selling mint-flavored toothpicks.
Business boomed. In 1920, Cartwright moved to Guilford, Maine, to be closer to a rich supply of white birch. Soon thereafter, he expand his offerings and rebranded as Hardwood Products Company.
In those early days of producing toothpicks, tongue depressors and aseptic wood applicators, the Cartwright family couldn't have seen the true marvel of their efforts. They were laying the foundation for Puritan Medical Products, one of the great stories of technological innovation in the proud history of New England manufacturing.
But we like to think they'd be delighted that they did.
January 2019 marks the start of Puritan's 100th year of service to our customers and communities. All throughout the coming year, you can look forward to the stories behind our legendary commitment to creating quality products, providing excellent service and giving to our communities.
We're thrilled to bring you along to help celebrate that amazing journey. Here are examples of some of the fun and exciting content you can look forward to reading and seeing on our social media channels and elsewhere.
Spotlight on Key Moments in History
Every company has its legendary stories to pass along from generation to generation. Keep an eye out for the stories behind some of the bigger moments in Puritan history.
Moments may include:
1948: Puritan brand established as trademark
1958-60: Fire destroys our original plant, but not our will to rebuild
1965: Puritan enters the cotton tipping and sterile pack market
1990: Puritan adds the industrial market to our medical and specimen collection businesses
1995: Puritan earns our first ISO certification
2005: Puritan enters the forensic DNA collection business
2011: Puritan's patented line of high-performance flocked swabs debuts on the market
2012: Puritan expands our line of products to include media transport systems
Introducing Puritan's People
Without great employees, companies don't make it a week, let alone a century. In the coming months, we'll shine a spotlight – figuratively and literally – on Puritan's greatest asset, our workforce.
We're delighted to share the stories of some of the people whose contributions to our company and our coworkers' well-being have made the Puritan brand what it is today, and what it will be tomorrow.
Who are Edgar and Joe Cartwright? Todd and Virginia Templet? What did they contribute to our history? Through blog posts, feature articles, archived photos and video profiles we have planned, you're sure to learn a surprising fact or two about the people behind the names you've always heard, but perhaps never quite knew why.
Puritan and Our Communities
In today's global business world, community can refer to many different groups. You likely belong to and interact with any number of communities every day: the people you work alongside, the town or region you live or work in, the customers you work with to get your products to market, and your customers' customers – the people who ultimately use your products to do their important work.
We'll be celebrating Puritan's many communities. We'll share with you stories of the proud manufacturing history of Guilford and Puritan's place in this hard-working small town, from sponsoring local semi-pro baseball teams to contributing events such as the annual Guilford Days celebrations.
Watch your social media channels for posts celebrating our pride with events and happenings large and small, and near and far, from articles in the local news media to our presence at some of the larger industry trade shows in the world.
Conclusion
We can't wait to experience this once-in-a-lifetime opportunity with you. Don't miss a moment of Puritan's 100th Anniversary.
Be sure you're following Puritan on all of these channels:
Are you a Puritan Medical Products history buff? Is there someone you'd like to see recognized? Feel free to share your ideas. Send us an email with your idea and preferred contact information. We'd love to hear from you.