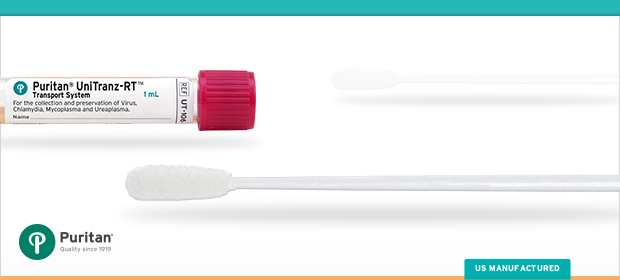 Medical facilities and laboratories must receive essential flu related diagnostic products in order to efficiently collect, transport, and process viral specimens and for healthcare providers to issue timely diagnoses.
Now it's more convenient than ever for customers to choose and purchase Puritan's array of high quality transport systems with our newly rebranded universal transport medium UniTranz-RT™.
Puritan's UniTranz-RT™ universal transport medium has not changed and new validation is not necessary.
UniTranz-RT™ is designed for the collection and transportation of viruses, chlamydia, mycoplasma, and ureaplasma and remains stable at room temperature.

Check out this handy PDF for comprehensive flu product ordering information and overview of the types of Puritan products you should have on hand during flu season.
Puritan UniTranz-RT™ with Media Only
If you are using an aspiration (or other non-swabbing) method to conduct flu testing, you can buy our UniTranz-RT™ universal transport medium system with media only in either 1ml or 3ml fills.
Puritan UniTranz-RT™ with PurFlock Ultra® Swabs
This flu testing system includes the UniTranz-RT™ universal transport medium described above, plus our patented PurFlock Ultra® flocked swab. Our PurFlock Ultra® swabs contain proprietary multi-length fibers which provide for faster collection and elution of sample than traditional spun swabs.
Puritan UniTranz-RT™ with Spun Polyester Swabs
Puritan's UniTranz-RT™ are also available with polyester-tipped swabs in both regular and mini-tip sizes.
When it's time to order your essential flu products, you can rely on Puritan. We work hard to manufacture and maintain our inventory throughout flu season. In most cases, we can pack and ship your order within 48 hours of receipt.
Need more information for the upcoming flu season? Contact one of our product specialists today.