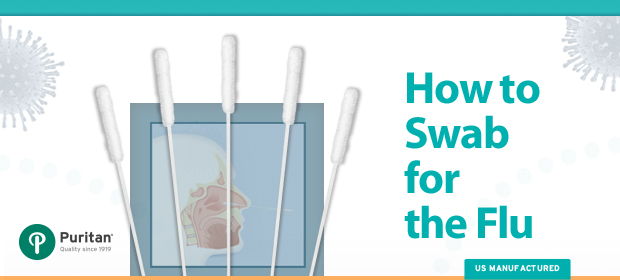 October is here and that means the start of flu season around the globe. Influenza has spread at epidemic levels in recent years, so it's important for your staff to be prepared to collect and test influenza specimen samples. We've put together this guide at the bottom of this post as a quick reference for your staff in handling flu season.
You can also download our flu infographic here.
Why Use Flocked Swabs for Flu Testing?
The American Society for Microbiology (ASM) recommends nasopharyngeal (NP) flocked swabs as the preferred specimen collection device for influenza testing.

At the microscopic level, synthetic-tipped swabs are more abrasive than cotton. For this reason, flocked swabs exhibit a superior recovery and elution of specimens. Flocked swabs provide better sample collection due to their brush-like tip, which releases higher numbers of target cells and retains more liquid sample than foam tipped swabs. Many physicians find flocked swabs easier to use and report less patient discomfort than other swab types.
What Tests Will Benefit From Flocked Swabs
Flocked swabs are ideal for traditional viral culture methods as well as enzyme immuno assays (EIA), direct fluorescent antibody assays (DFA), and molecular tests including real time PCR. Flocked swabs are offered with flexible plastic handles for ease of use and patient comfort.
Swabbing for the Flu: Which Test?
The two most common types of flu tests are the rapid influenza diagnostic test (RIDT) and the more traditional viral cell culture test. Both of these tests rely on NP swabs, throat swabs, NP or bronchial washes, nasal or endotracheal aspirate, or sputum testing. NP swabbing with flocked swabs is the preferred method.
NP Swabbing for Influenza
As the name suggests, the nasopharynx is the part of the pharynx above the soft palate that is continuous with the nasal passages.
*Please note: When collecting samples, it is recommended to wear appropriate personal protective equipment (gloves, surgical mask, eye protection).
An NP swab collection for influenza is best performed by following these steps:
Choose a swab with a flexible plastic handle and flock tip, such as Puritan's 25-3317-U.
Insert swab into one nostril straight back (not upwards) and horizontally to the nasopharynx up to the measured distance on the swab handle.
Rotate the swab up to 5 times and hold in place for 5-10 seconds to collect sample material.
Remove swab and insert into a vial containing 1-3ml of viral transport media.
Break the swab handle at scored breakpoint line.
Label the vial with appropriate patient information.
There are certainly exceptions to the types of swabs and procedures described above, but we hope you'll reference this general overview whenever you need a refresher.
Have more questions about swabbing for the flu, or about any of Puritan's disposable medical products? Contact us to speak with one of our sales representatives. Happy swabbing!
Share this Image On Your Site