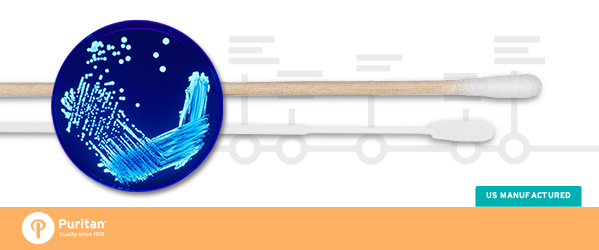 Transport medium, in general, is defined as non-nutritive balanced, buffered media to provide a controlled environment and to maintain the viability of microorganisms without a significant increase in growth.
1948: Stuart's Medium
In 1948, Dr. R.D. Stuart and co-workers efforts led to the introduction of medium what is known today as Stuart's medium for maintaining the viability of organisms while in transit using a swab as a collecting device for the first time. It consisted of Sodium Thioglycolate, Sodium Glycerophosphate, Calcium Chloride and Methylene Blue as a color indicator.
Two decades later Cary and Blair modified Stuart's medium by replacing Sodium Glycerophosphate with inorganic phosphate and raised the pH to 8.4. The modification helped to improve the viability of enteric bacteria such as Salmonella and Shigella in fecal samples.
1967: Amies Medium
In 1967, Dr. Amies confirmed Cary and Blair's finding and further modified the Stuart's formula by eliminating Methylene Blue and adding inorganic phosphate salts as buffering agents and charcoal. These modifications resulted in higher percentage of positive cultures, especially in samples containing fastidious organisms such as Neisseria gonorrhoeae.
Stuart's and Amies transport swabs have since been the most popular and commonly used transport systems for a broad range of clinically significant microorganisms while Cary and Blair's medium supported the viability of the enteric pathogens in fecal samples.
Today these transport media remain the preferred choice even though little change in formulation has occurred over for the past several decades.
Advancements in Swab Technology
However, the swab collection devices, which are the critical component of any transport system, have continuously evolved and gone through multiple technological advancements in design, materials and performance characteristics to the point that no longer one swab fits for all purposes.
Limitations of Cotton Swabs - Puritan Diagnostics LLC's initial attempts to manufacture tipped applicators as a collection tool for clinical specimen collection coincided with Dr. Stuart's works to develop Stuart's medium. At this time, the swab consisted of a small wad of cotton wrapped around one end of a wooden handle. In spite of its popularity and wide usage for several years, cotton tipped applicators contained individual fatty acids that were inhibitory to some microorganisms.
Development of Synthetic Fiber Swabs - Knowing the importance of pre-clinical steps in specimen collection, Puritan began introducing a broad range of spun fiber swabs made from non-toxic synthetic fibers such as rayon and Dacron (polyester) with both wood and plastic handles.
Need For High Absorption Swabs - Despite the significant improvements made in design and manufacturing of traditionally spun swabs to enhance their collection capabilities, the inherent flaws in the geometry of long-spun fibers resulted in insignificant amounts of sample to entrap inside of the wrapped fiber, only allowing for partial sample yield.
Realizing the limitation of the traditionally wrapped swabs in releasing microbial cells, Puritan initiated an aggressive research and development program to create a new generation of swabs.
1990: Media-Free Transport Systems (Elution Swabs)
In 1990, Puritan was instrumental in developing a foam swab for media-free transport systems for Becton Dickinson which today is known as Culturette EZ foam transport system.
The foam swab, made from polyurethane foam was embraced by the point-of-care community. As the first specimen collection device used for its collect and release attributes by the rapid POC diagnostic companies, it is still widely used today. This was truly the first elution swab on the market.
Puritan continued its aggressive research and development program based on technically advanced flock technology. The R&D activities ultimately led to a breakthrough in developing a superior flock swab.
2000s: Flocked Swabs
This specimen collection device, trademarked HydraFlock, is widely used in the clinical diagnostic field for improved sample collection, complete sample release and patient comfort. The unique micro-geometry of each HydraFlock fiber increases the surface area on the swab tip.
This fiber geometry, best described as 'split ends' provides increased surface tension and micro channels for the collection and release of small single cells.
Today Puritan is the largest and oldest manufacturer of a traditional and specialty swabs applicators and is fully committed and invested in the design and development of pre-analytical phase of clinical specimen collection, preservation, and transport.