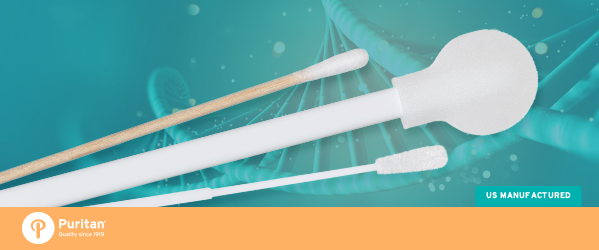 Swabbing a cheek for human DNA or RNA is one of the most fundamental collection methods in the field of genetics. While many collection devices have come to market, researchers and diagnostic companies alike have continued to rely on Puritan Medical Products for our sterile, easy-to-use, non-invasive swabs. In the field of genetics, where compliance is key, it's beneficial to choose a swab that works for you and your donor.
Our sterile swabs come in many different shapes and sizes. We've outlined three of the most widely-used types in the field today.
Cotton
Cotton is a material that has been widely used in the field of DNA sampling, be it forensics or human genetics. The medical-grade cotton used in our swabs is ideal for buccal sampling as it creates just the right friction to release the buccal cells from the inner cheek, while still soft enough to be non-invasive.
You may choose to cut the tip of the swab into a vial or to elute the sample into a buffer. Either way, the quality of DNA from this sample is perfect for many downstream applications. These swabs are sterile, and depending on your workflow, can come in single or multiple swabs per pouch.
Foam
While our cotton swabs are commonly used for buccal cell collections, our foam swabs are most ideal for saliva collection. The highly absorbent, soft foam head can be rubbed in the cheek pocket between the cheek and the gumline where saliva naturally pools. This medical grade foam is porous and will soak up as much saliva as is available, providing a high quality DNA sample. To release the sample, simply elute the swab into a buffer of your choice.
Our foams swabs come in several varieties to accommodate larger (adult) or smaller (infant) surfaces.
Flock
Our patented flocked swabs have been adopted into the field of genetics due to the superior nature of their polyester single fibers. Providing a unique alternative to the cotton or foam, these flocked fibers are able to collect, retain, and elute the sample, even when cell counts are limited.
We have found that flocked swabs are gentle enough to use on newborns who may or may not have developed salivary glands yet. The polyester fibers will gently attract the buccal and/or saliva cells within the mouth.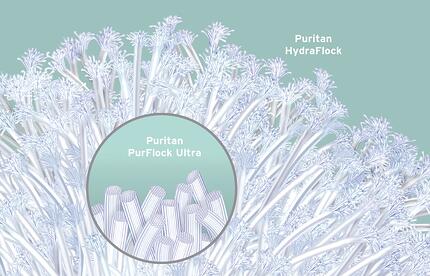 Thus the uniquely designed fiber structure account for better cell yield. These swabs are also available with pre-molded breakpoints to snap off into the vial size of your choice.
Puritan Medical Products is here to ensure we provide you with the right swab for your workflow. To help us prepare, please think about:
How old are your donors?

How much DNA does your application require?

Is this self collection or assisted collection?

Will this swab be part of a kit?

Do you require a nucleic acid stabilization buffer?

Will these samples be in transport?
We look forward to hearing from you. Want a free resource in the meantime? Download our buccal cell sample collection guide today!