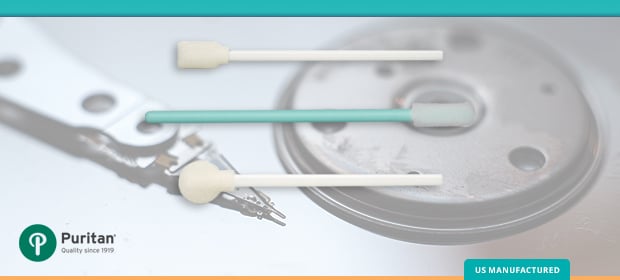 When an ordinary cotton swab isn't doing the job, consider foam instead. Foam-tipped applicators are often the ideal solution in critical industries for cleaning, assembly and repair.
Where foam really shines is in its cleaningcapability. Puritan's swabs are made from soft, synthetic polyurethane foam. While they range in porosity, the most common is 100 ppi (pores per inch) which is great at trapping most types of particles. They can be hydrophilic or hydrophobic. Swab handles are attached either with adhesive or by using a thermal-bonding process, which is free of contaminating adhesives. Foam-tipped swabs are also lint-free.
Here are a just few of the many benefits of foam swabs
Highly effective – Foam is a powerhouse when it comes to cleaning. Its high absorbency makes it great for removing particles and debris. This type of swab is compatible with most cleaning solvents. Chemical-resistant foam swabs can even be used with acetone.
Durable – The handles of our foam tip swabs can be made from a variety of materials, ranging from rigid wood and stiff-molded polypropylene to hollow or solid flexible plastic. Though intended for single use, the tip is reliably attached to withstand rigorous use, including industrial cleaning or specimen collection applications.
Gentle – Because foam is soft and non-abrasive, it won't scratch even the most sensitive surfaces.
Adaptable – Foam swabs can be used dry, or moistened, with solvents like isopropyl alcohol or deionized water. Tips are available in a variety of shapes and sizes with handles available in various lengths and materials. This versatility makes these swabs ideal for many cleaning applications, particularly in hard-to-reach spaces.
Foam is ideal for a variety of industries
Foam-tipped applicators are designed with specific environments in mind, including precision manufacturing, fiber optics, electronics, semiconductors, printing, aerospace, biotechnology and pharmaceuticals to name just a few.
Ways you can use foam swabs
Puritan's PurSwab® foam-tipped applicators are ideal for general cleaning. And they are also frequently used for:
Machine tool and mold cleaning
Printer cleaning and maintenance
Application of adhesives, solvents, coatings, sealants
Removal of contaminants
Precision cleaning and inspection processes
Medical-grade polyurethane foam is also used as a tip material for diagnostics. It comes in a variety of tip sizes and shapes, which covers a large variety of testing applications.
Just a few of the foam swabs available
With a large variety of foam swabs to choose from, Puritan's PurSwab is suitable for many specific applications. Here's a sampling:
SKU #1105: 4" in overall length, small paddle-shape foam swab with polypropylene handle and a non‐abrasive tip. Good for cleaning surfaces.
SKU #1605‐PSF: 5" overall length, small rectangular foam swab with polypropylene handle. Used for coating rechargeable copier cartridges. Great for swabbing larger surfaces and hard-to-reach areas.
SKU #1805‐PF: 5" large round, paddle shape foam swab with polypropylene handle. General purpose swab for cleaning curved surfaces. Chosen for DNA/buccal cell collection.
When your task requires extra padding or absorbency, another great option are foam-over-cotton applicators. This hybrid swab category, in some respects, delivers the best of both cotton and foam. The lint-free foam provides good shred resistance while the inner cotton core adds extra padding and absorbency. A few options to consider in this category are SKUs #1806-PCF, 1806-WCFL and 1806-WCSF.
Given the variety of products available in our foam product line and the many ways they can be used, it's no wonder that foam swabs are what many professionals use to get the job done.
Interested in exploring which foam swabs are right for your application? Check out our complete line of swabs, conveniently organized by industry. Contact us anytime.