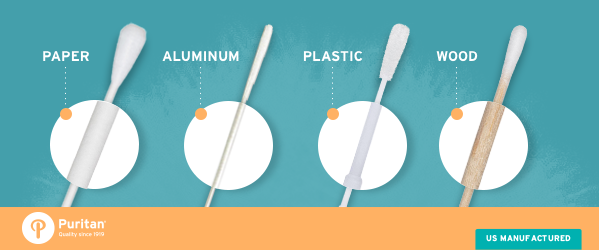 The handles or shafts of swabs and applicators have distinctly different attributes. How do you know which is best for your business or work? Start with this primer. In this article, we compare the different types of swab handle materials so you can make the best choice for your application.
Wood Applicator Shafts
Wood is about as basic as it gets when it comes to swab shafts. Puritan's wood shafts are sticks milled from Northern White birch. They are economical, sturdy and rigid, and well-suited for applying to or cleaning in basic patient care or industrial applications.
A natural material, wood may introduce dust and can fracture in use. Applicators with wood shafts are not suitable for microbiological collection applications. Standard lengths are 3" and 6".
Plastic Applicator Shafts
This material comes in many forms and is desirable for its clean, non-porous and non-dusting properties. The common plastic shafts for applicators are hollow polystyrene, and most often white in color. These are more costly than wood, but also more flexible, and will break cleanly if desired. This quality makes the synthetic material suitable for microbiological specimen collection.
Plastic applicator shafts are commonly found in patient care and specimen collection, and also used in industrial cleaning applications. Standard lengths are 3" and 6", but these can be scored to break at a predictable point.
Polypropylene, also a synthetic plastic material, is durable and resistant to fracture. This shaft is suitable for patient care, specimen collection, and a broad range of industrial applications where greater durability is required.
Wire Applicator Shafts
Applicators with wire shafts are often used in medical settings. Made of aluminum or stainless steel, these fine-diameter flexible shafts are useful in specimen collection where standard swabs are simply too big. They're also an ideal choice in specialty industrial applications where conductivity is not a concern.
Paper Applicator Shafts
Paper is a familiar shaft material for lollipops, but can also be found in tipped applicators. Paper is smooth, white, and somewhat flexible. It is available in fine diameter for critical cleaning applications and in longer lengths for medical applications. The range of standard applicators with paper shafts is limited when compared to wood or plastic shaft products.
Custom Swab Handles and Shafts
Looking for something else? When your application requires shaft properties that are beyond basic, contact Puritan's product specialists to discuss the possibilities. There are many shaft material options in the Puritan line, and more available to create your custom product.