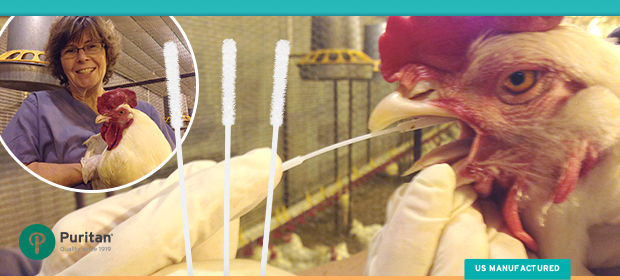 By: Elaine Seavey Maliff
VP of Territory Sales - South
Puritan Medical Products
Not long ago, I was a guest at a poultry breeder farm in our great US heartland to see first-hand how specimens are collected in the routine monitoring of the flock for the presence of respiratory and other infectious diseases. For this sort of testing, the farm moved away from using rayon tipped applicators, opting instead for Puritan's flocked swabs.
The day was remarkable—a rich experience that can't be fully captured in words, but here's an overview. The long and winding country road to the secure farm was the beginning—a ride long enough to learn about the workings of this industry and the precautions taken to assure bio safety for the residents of the breeder houses. The farm staff greeted me warmly—not something I experience often in my industrial travels.
At the chicken farm, specimens of various kinds are collected and tested in the lab, one being infectious DNA testing. Infectious DNA testing is an important part in the diagnosis and prevention of many viruses, diseases, and other illnesses that affect the avian population.
Before testing could begin, I was given instruction in the proper "shower in, shower out" technique and was soon on my way—with clean body, hair, nails, glasses, ears and nose—in clean farm scrubs and boots. More bio safety at the doorway to sanitize hands and change boots, and I was in a climate-controlled house full of hens and roosters.
Swabbing Poultry for Respiratory Infectious Diseases
Staff there described the specimen collection technique employed to carefully collect a specimen from the palate of those birds selected, at random, from the house. The recent move from conventional rayon tipped applicators to Puritan's mini-tip PurFlock Ultra® flocked swab has made the sampling process easier for the staff, less injurious to the birds, and more efficient for processing.
I watched while a number of specimens were collected, and then was given the opportunity to collect a few samples myself. I wasn't good at getting a hold of the birds, but once in my arms the big rooster seemed happy enough for me to hold him, though I have to admit he would have preferred I didn't have to swab him. The on-site tech concurred with the lab staff and the farm manager—the flocked swab was a much better device for this work than the conventional spun fiber tip.
"Shower-out" was followed by a noon meal with farm staff. A heartwarming grace was asked and I was invited to join in an early dinner—every dish was offered from Diet Dr. Pepper to roast turkey and stuffing to pie. I can't fully express the sense of family among the crew, and the happiness in the room.
Then—not done yet—a ride back to the lab to see how these swabs are processed. Yes, new clean clothes and clogs and then a tour of the various stations within the lab that serve a number of breeder farms in the area.
Flocked Swabs Provided Superior Specimen Collection
Lab staff showed how the specimens are received, how they are eluted and processed, and showed me—again, carefully—how much more efficient the testing is when using Puritan's flocked swab than the previous process that used rayon on plastic.
Before I left, the lab lead reviewed results of the in-house study that was conducted to support the conversion to Puritan's swab. Numbers told the story: the choice to convert was clear. In a swab comparison test the flocked swabs released more DNA from infected birds.
Then, you guessed it, "shower out" and I was gone. Seeing first hand the many details that go into assuring bio safety at the farm, which included not just climate control of all systems in the houses but also around them (rodent control from monitoring food available to them and the animals themselves, selection of the appropriate grasses mowed to assure best conditions, carefully managed air handling) was informative and worthwhile.
To see the care that goes into developing, breeding, and caring for the best poultry possible for human consumption was impressive, indeed. My sincere thanks to all who graciously spent time to share details of their important work with me.
If you would like to learn more about how Puritan's products can be used to validate your safety or cleaning procedures, please don't hesitate to contact one of our knowledgeable product specialists today.
SOURCES:
Poultry Disease Information. National Poultry Improvement Plan. Retrieved from
http://poultryimprovement.org/ June 5, 2014.