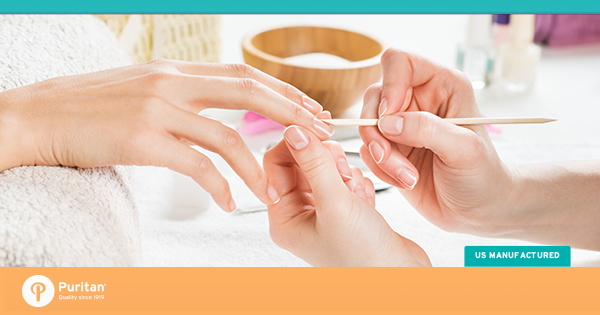 Puritan manufactures high-quality swabs and other single-use products for industries such as healthcare, forensics, and food safety. But these same medical-grade swabs and other products also have fantastic beauty and wellness applications. From cotton swabs to cuticle sticks, Puritan can help spa and salon owners keep clients looking their best.
And now that spring has sprung there's no shortage of events—vacations, proms, weddings—people need to be photo-ready for. Here are some of the best beauty tips and tricks made possible by Puritan products.
Cotton Swabs for Cosmetics
Our superior cotton swabs are almost enough on their own to perform every part of a beauty routine. Whether you own a salon or find yourself in a salon getting pampered after the long winter, take note to where you spot our products! Puritan swabs can be used in a wide range of beauty and salon services, from facials to pedicures.
Face
Use a swab to precisely cover a blemish with just enough concealer.

Target dark spots with brightening cream in the same manner.
Lips
Use a swab to get every last bit of lipstick out of the tube before tossing it.

Lipgloss comes in a pot? Keep your fingers clean by applying with a cotton swab.

Don't let bright lipsticks or stains bleed outside your clients' lip line. With a swab, trace her pout with powder to keep lip color in place.
Eyes
Avoid sticky fingers when applying eyelash glue to false eyelashes by using cotton swab to disperse the glue.

Use a swab to dot concealer on underye circles, then blend.

Cotton swabs are the perfect tool for smudging or cleaning up eyeliner.
Nails
Embellish nails by using a swab to create designs (adorable polka dots!) or add decorations.

The pointed cotton tip on our tapered swabs can clean up the messiest manicure or pedicure.

Cleaning bottle necks with swabs dipped in nail polish remover keeps polishes from getting stuck shut.
The Perfect Puritan Products:
Bonus: Seal swabs covered in concealer or perfume in small storage bags and tuck them into your purse. You'll be able to touch up your makeup or reapply your favorite scent while at a wedding or during a long flight.
Wooden Tongue Depressors
Isn't it amazing how much better you feel after an eyebrow wax? Our tongue depressors were actually designed to apply wax. The wood has a smooth polish, and with two different sizes, the sticks can be used in multiple areas on the body.
The Perfect Puritan Products:
Cuticle Sticks
Keeping nails clean is good for hygiene and for first impressions. Puritan cuticle sticks with beveled ends are just the right tool for pushing cuticles back into place. And our single bevel sticks with pointed ends can clean out dirt and other built up grime. Whether thanking an instructor for vacation surfing lessons or meeting a cousin's new boyfriend at a family fête, your clients will confidently extend their hands knowing they look great.
The Perfect Puritan Products: