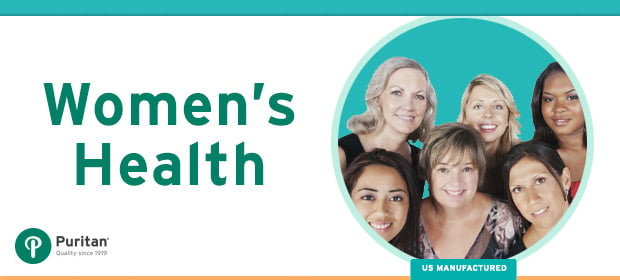 National Women's Health Week, May 9-15, is a great reminder to women to make their health a priority and to take care of themselves. Beginning on Mother's Day each year, National Women's Health Week can serve as a starting point for a mindset shift that lasts a lifetime.
Women around the world are realizing the need to maintain their overall health, and cervical health a crucial area of focus. Puritan products are there, serving as important components in numerous test kits and women's health procedures.
Improve Your Odds for Cervical Health
Nearly all cases of cervical cancer can be attributable to Human papillomavirus (HPV) infection. HPV is the most common viral infection of the reproductive tract. Most sexually active women and men will be infected at some point in their lives and some may be repeatedly infected.
The peak time for acquiring infection for both women and men is shortly after becoming sexually active. HPV is sexually transmitted, but penetrative sex is not required for transmission. Skin-to-skin genital contact is a well-recognized mode of transmission.
There are many types of HPV, and many do not cause problems. HPV infections usually clear up without any intervention within a few months after acquisition, and about 90% clear within 2 years. A small proportion of infections with certain types of HPV can persist and progress to cervical cancer.
Get Tested, Get Vaccinated, Stay Healthy
The key to preventing cervical cancer is vaccination, and early signs of cervical cancer can be detected with two simple tests. The Pap test checks the cervix for abnormal cells, while the HPV test checks for the presence of human papillomavirus. Pap tests and HPV tests are not only simple and quick, they also are covered by most medical insurance providers.
Puritan offers a variety of swabs, cytology brushes, and wooden scrapers, including some of those used in cervical specimen collection kits.
There are a variety of tests currently available for clinical use to check for the higher risk types of HPV including:
The digene Hybrid Capture II™ HPV test, produced by Qiagen
The Roche cobas® HPV test
The Cervista™ HPV High-Risk (HR) test, produced by Hologic/Gen-Probe
The APTIMA® HPV mRNA Assay, produced by Hologic/Gen-Probe
To help protect women and their reproductive health, other tests may be used to detect the presence of sexually transmitted infections. For example, the Hologic® Aptima Combo 2 Test, which diagnoses Chlamydia trachomatis (CT) and Neisseria gonorrhoeae (GC).
This convenient test provides two conclusive test results from one single swab, allowing for a fast diagnosis which in turn facilitates more immediate treatment. A different Puritan swab, 25-806 1PR, is an integral part of Sekisui's Osom Trichomonas Rapid Test for Trichomonas vaginalis Antigens, a parasite that causes Trichomoniasis.
Better Products Yield More Accurate Results
It is important for clinics and medical offices to maintain stock of Puritan products used to ensure cervical health. Popular products like polyester or rayon-tipped applicators, Wooden Scrapers, Rovers® Cervex-Brushes, and our collection of cytology Histobrush's® are commonly used during routine women's health tests and procedures and can easily be ordered through a distributor.
These products not only set the industry standard but also produce accurate results with unmatched ease of use; giving both healthcare providers and patients peace of mind.
Healthier Women, Healthier World
Puritan promotes women's health every day of the year. Our high-quality products help medical facilities around the world provide women with the tests and procedures that will help them take control of their health, enabling them to live healthier, happier lives.
For more information about ordering the various women's health products produced by Puritan, call to speak with a product specialist today.
Sources: