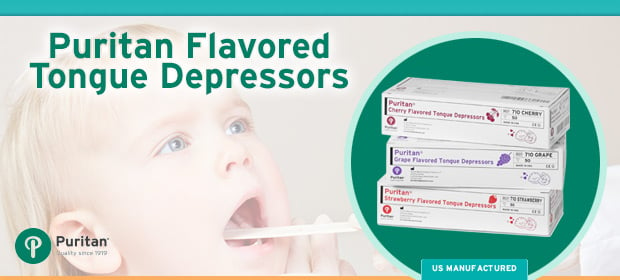 Here at Puritan, it's our mission to produce a wide variety of top quality single-use products that make everyday procedures easier for healthcare professionals and their patients. We know that a trip to the doctor, even just for a simple check-up, can be a stressful time for parents, because their kids are overwhelmed by the experience, and fearful of the applicators and tools used to check their vitals. To make visits to the doctor a little easier for kids and parents alike, Puritan developed flavored tongue depressors in fruity, enjoyable flavors like strawberry, cherry, and grape. We knew they would be an instant favorite of young patients, but we were happily surprised to learn how valuable these products could be for other industries too!
Making Check-ups Fast, Fun and Flavorful
Most kids don't enjoy visiting the doctor, but the added fun of a flavored tongue depressor serves as a distraction and helps kids of all ages (and even adults!) feel less overwhelmed during oral examinations. This feature not only benefits young patients, but also parents and pediatricians, who find that exams can be conducted faster, and with fewer tantrums. Additionally, Puritan's flavored tongue depressors offer several other benefits. The flavorings we use are Kosher certified, FDA food grade, and allergen-free, making them safe for all patients. Made from tumbled white birch veneer, our tongue depressors offer a smooth texture and splinter-free finish.
Adding Some Sweetness to Speech Therapy
While Puritan's flavored tongue depressors are a natural fit for pediatric medical facilities, they have also become exceedingly popular in speech therapy applications. Two well-known companies who produce occupational therapy and learning materials for oral-motor therapy, sell our flavored tongue depressors. Talk Tools, a developer of oral placement, sensory, and feeding therapy supplies offers flavored tongue depressors to promote lip closure, nose breathing, and saliva control. Another company, Super Duper® Publications, provides our sweet and fruity tongue depressors for oral-motor exercises for students and patients of all ages.
Giving Feathered Friends a Fruity Distraction
It's arguable that our flavored tongue depressors are so popular because kids love fruity flavors, but an avian veterinary practice in Jacksonville, Florida found that birds do too! When treating their patients, which include parrots and other large birds, these vets use Puritan flavored tongue depressors to help to distract the birds while they are treated or evaluated. The birds enjoy all the fruity flavors, and the vets like that our tongue depressors are flavored and dye and coloring free, as dyes can be harmful to our feathered friends.
Here at Puritan, we're known for producing high-quality products that save time in whatever industry or application they're being used. Our flavored tongue depressors not only exemplify this mission, but prove that Puritan products are versatile enough to have become extremely valuable outside of the application for which they were originally intended. To learn more about our flavored tongue depressors, or to tell us how this innovative product is making a difference in your life, contact us today!