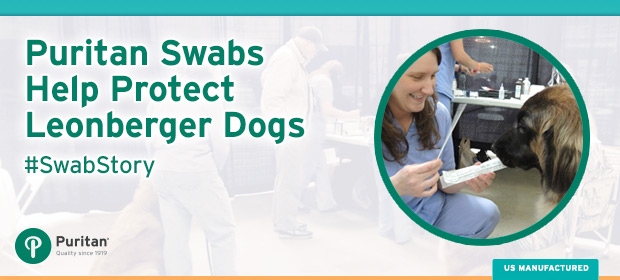 Recently, Puritan's Director of Sales – Northeast Region, Ashley Buttice, had the rare opportunity to work with the Leonberger Health Foundation and President Caroline Bliss-Isberg, at the foundation's annual National Specialty event which took place in Frankenmuth Michigan earlier this year. To facilitate their noteworthy efforts, Puritan provided them with a collection of swab samples to use for collecting DNA from the cheeks of the Leonberger dogs they care for.
The Leonberger is a giant dog breed whose name derives from the German city, Leonberg. The dog was presumably bred as a symbolic breed meant to resemble the lion. As with many large breed dogs, they are susceptible a wide range of health concerns and diseases which range in impact from mild to devastating. Some of the most prevalent conditions include heart problems, osteosarcoma, hemangiosarcoma, allergies, digestive disorders, cataracts, and numerous others.
Founded by Waltraut Zieher in 2000, The Leonberger Health Foundation was formed with the vision to improve the quality of life, health, and longevity in our Leonberger companions. LHF is a private, nonprofit, 501(c)(3) foundation, created to facilitate raising and distributing funds for research that focuses on minimizing the impact of canine disease in these gentle giants. The valuable research, driven by LHF, provides support and hope to those whose pets are affected.
Four years ago, the University of Minnesota and the University of Bern in Switzerland discovered the gene mutation, Leonberger Polyneuropathy (LPN), that is responsible for crippling these animals. LPN is a collective term for several clinically neuromuscular diseases which result in the debilitation of the dog's strength and exercise tolerance. In time, the dog may develop gait abnormalities, such as an exaggerated hitched step, and may experience difficulty breathing. Eventually, the disease may progress to the point where the dog can no longer support its own weight. With the goal of eliminating LPN1 from the breed, the Leonberger Health Foundation is in the midst of creating a DNA bank and associated database to simplify access to Leonberger DNA for researchers. The foundation also hopes to one day eradicate a second form of LPN, known as LPN2.
Right now there are blood specimens that have been collected over the last decade for each individual study that has been conducted. These are scattered all over the world but mostly at the University of Bern in Switzerland and several universities and research centers in the United States—NIH, Broad Institute at MIT, University of Minnesota, UC Davis, North Carolina State University etc. The goal is to get samples all in one place so donors don't have to provide samples to lots of different studies as well as to accommodate scientists conducting new studies. Although blood samples have routinely been used in the US and Switzerland, LHF discovered that England has huge restrictions on obtaining, using and sharing blood samples and are restricted to using only cheek swabs.
Upon receiving this important news, LHF contacted Puritan for some samples to see what product would be best for collecting DNA from the inside of the canine's cheek. They found that Puritan's 25-2188, a sterile cytology Histobrush® was the product of choice. The genetic researchers found the cytology brushes worked well for DNA research, providing the researcher with an ample amount of DNA without needing to collect blood. One swab yields enough DNA for 5 research projects. These tests will go on to determine what, if any, disease mutations exist. One benefit of using the brushes manufactured by Puritan for this research is that they can easily be sent directly to the dog owners, allowing them to collect and return the samples on their own without having to worry about the veterinary and shipping expenses involved in collecting and sending blood samples.
At the foundation's Annual National Specialty, which took place from April 28th to May 3rd, 2015 in Frankenmuth, Michigan, over 150 Leonbergers from around the country were in attendance. Over a third of the dogs were swabbed by vet techs present at the show, so that their genomes could be tested for disease mutations. In fact from the photos it's clear that the dogs liked being swabbed a lot more than being stuck with a needle!
Caroline Bliss-Isberg, President of the Leonberger Health Foundation expressed her sincere thanks in stating; "We are so grateful for your help in providing us the samples for our preliminary trial use. In all it proved highly successful. We will be doing more in the future. In fact I just sent samples to two owners of dogs that have lived much longer than the average Leo. We are hoping to collect enough samples from very old dogs so that researchers can analyze their DNA and look for the contributing genes."
Puritan is happy to be a part of Leonberger Health Foundation's vision, and in turn do a small part in improving the quality of life, health and longevity in the Leonberger breed.
We look forward to any opportunity to help this organization again in the future.
By: Ashley Buttice
Director of Sales - Northeast Region
Puritan Medical Products Co.
Contact Ashley here