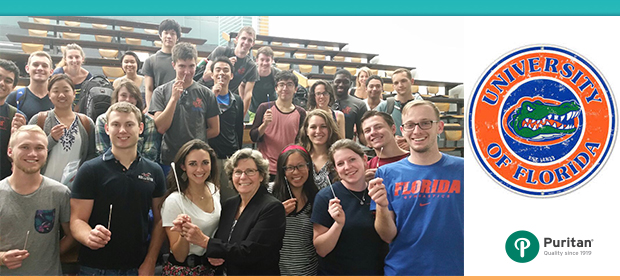 Recently Puritan's Director of Sales - South Region, Elaine Seavey Maliff, had the distinct pleasure to present an overview of "Swabs for Critical Environments" to a class of Material Science and Engineering students at the University of Florida's College of Engineering in Gainesville, FL.
My presentation was tailored to educate Dr. Nancy Ruzycki's students on the diversity of applications where swabs are used and the importance of choosing the right swab for use in Critical Environments, specifically in the medical device, automotive, aerospace, forensics, and electronics areas. I explained that operating in a critical or controlled environment requires attention to environmental conditions, which may affect your product or process. The presence of dust, moisture, oils, or static - even DNA - might be detrimental, so the possibility of the introduction of these contaminants needs to be understood.
Swabbing For Industrial Applications
Dr. Ruzycki asked her students to consider the importance of understanding all materials they will one day specify for use in a critical environment. With this in mind, I covered both the natural and the synthetic materials used in the swab shafts and tips, pointing to those properties that should be taken into consideration. The students were amazed at how many configurations of swabs are available. I explained the intended use dictates which materials are not suitable – perhaps those that will introduce lint or particulates – and those which are appropriate – as when chemical resistant foam may be needed when harsh solvents are employed.
I continued with a brief outline of the scope of regulation and documentation that must be considered and, though pretty dry, the information was impactful. We talked about FDA, ISO and CE, MIL-STD, ASTM and other industry regulations and where they might apply.


I made a point of telling the group about the highly skilled engineering staff at Puritan (located at our corporate headquarters in Guilford, Maine) that makes it possible to produce such a broad line of high quality products for markets worldwide. To paint a clearer picture for the students who don't yet see their place in industry, I named those positions: Plant Engineer, Industrial Engineer, Mechanical Engineer, Process Engineer, Chemical Engineer, Design Engineer, and Electronic Engineer.
Most Popular Questions from Students
At the conclusion of the formal presentation, the Q&A session generated more discussion about a range of applications for swabs and how they will be developed in response to emerging technologies as their careers take them into the future. Here are the topics of a few of those conversations:
Why was a particular specialty swab (1622-PF) designed?

Are imported swabs just as good, or better? Why?

Can the Popule hold other fluids?

How is the flock swab manufactured?

Where is calcium alginate used in industry?

Does Puritan make popsicle sticks?

Do many inventors bring their ideas to Puritan?
I came away with a greater appreciation of the work done at University of Florida, and all universities, to move technology forward. It was a learning experience for everyone.
By: Elaine Seavey Maliff
Director of Sales - South Region
Puritan Medical Products Co.