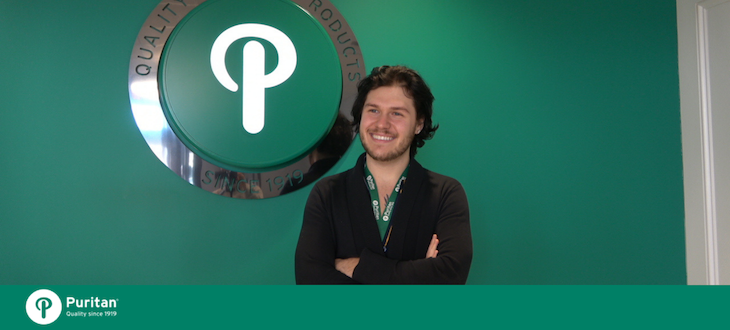 As recently as a generation ago, many Americans held manufacturing jobs. Your grandparents or possibly your parents may have worked in factory. But as the service sector has grown and manufacturing jobs have become scarcer, only a fraction of the workforce has ever held a production position. Consequently, most people have little to no idea what it's like to work in a place like Puritan Medical Products.
Whatever your ideas are about what it's like to work at a manufacturing facility, get ready for Puritan to surpass your expectations.
Because those who choose to work at Puritan don't just have a job. They have the opportunity for a career. They don't work in a dingy setting. They work in a state-of-the-art facility. They don't have ordinary coworkers. They have enjoyable coworkers who often become friends.
And they are not just doing a job. They are saving the world one swab at a time.
But don't just take our word for it. We recently asked a few employees what they like best about working at Puritan. In just one minute, three of them, Aileen Anderson, Linda Carroll and Cody Curtis identified 10 things they love about their jobs.
The opportunity
While employees believe their jobs are rich with opportunities, they tend to view the benefits a little differently:
"I love working for Puritan because of its amazing growth opportunities. I've only been here a short amount of time and I've stepped up in the company 3 times already." — Aileen
"I love the hours. I love the flexibility if you want to pick up overtime on Fridays and Saturdays. The pay is good and it's close to home." — Linda

The people
From colleagues to management, employees often talk about how much they appreciate the team at Puritan.
"Management is amazing, my coworkers are amazing." — Aileen
"I like the fact I've made a lot of nice friends here." — Linda
"It honestly comes back to community." — Cody Curtis

Helping others
Even though they can often be found working tirelessly around the clock, time and time again, you'll hear Puritan employees express gratitude for having the chance to serve and help others during the pandemic.
"I'm just really ready to keep going and help." — Aileen
"We've all come together to do one thing… to save the world… it's really cool to be a part of that!" — Cody Curtis
Thanks Aileen, Linda, Cody and the entire Puritan team for continuing to let us know what you think and for working hard every day.
Interested in learning more about Puritan? See what we've been up to the past 101 years on our website. Want to consider working at what we think is a very special place? Check out our current job opportunities.