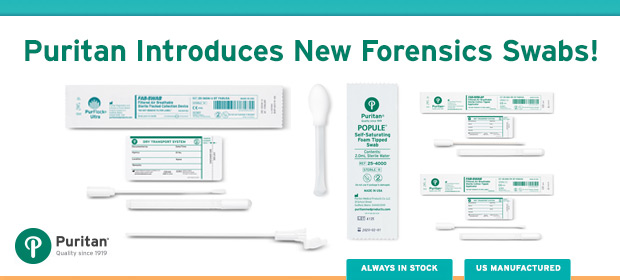 As a forensic professional, you already know the importance of high-quality products that facilitate the highly sensitive specimen and evidence collection and transport procedures that are so integral in your work. With so many options available, it's often difficult to find a reliable product which suits your needs. We're excited to introduce 6 new products, specifically designed for Forensic and DNA collection. Those familiar with the Puritan brand already know that our extensive line of American-made, single-use products is designed to be intuitive to the unique requirement of the applications for which they're most commonly used. Our new forensics swabs will be valuable additions to our highly popular DNA Controlled, Cap-Shure™, and Popule® lines, making it easier than ever for forensic professionals to do what they do best.
DNA-Controlled Swabs
Our collection of DNA-Controlled swabs are manufactured in a DNA-Controlled and a monitored clean-room environment, ensuring their purity and making them ideal for specimen and evidence sampling. Three new products have been introduced into this line with various tip shapes, materials and handle configurations. All products are packaged in a convenient reclosable, dry transport tube designed for reliable sample and evidence collection. The patented tube design entails a breathable filter label that covers holes to reduce the risk of bacterial overgrowth during transport.

Produced with high quality, USP grade cotton, our DNA Controlled items #25-806 1PC BT FABUSA (standard cotton tip with polystyrene handle) and #25-826 1WC BT FABUSA (tapered mini tip with wooden handle) are suitable for use in collecting buccal cells, crime scene evidence, and DNA.
Flocked Swabs
Flocked swabs have become extremely popular in forensic circles for their ability to collect, retain, and elute specimen better than other types of swabs. The new flocked swab addition to our DNA-Controlled line is #25-3606-U BT FABUSA, offered with an elongated PurFlock Ultra® flock tip and polystyrene handle with a molded 30mm breakpoint. Specifically designed for DNA testing in the crime scene investigation industry, makes this transport tube ideal for PCR, Molecular Assays, DFA testing, and direct antigen testing.
Cap-Shure® Swabs
Known for being the ideal choice in efficiently collecting minute samples at crime scenes, Puritan's is excited to introduce 2 items to our Cap-Shure® line. Cap-Shure products make multi-step specimen collection faster and simpler. The new #25-3206-H EC and #25-3206-U EC are offered with elongated HydraFlock® and PurFlock Ultra® flocked tips, allowing for optimal specimen collection. Both feature a contaminant-free aerated cap, which protects the tip from cross-contamination, ensuring specimen protection and quality. The ventilated cap allows for normal air-drying and lays flat for ease of transport. Each swab comes sterile and individually wrapped, facilitating ease of use with a simple 3-step process. Simply open the protector cap, slide down the swab handle until the tip is exposed, then once the designated area has been swabbed, simply slide the cap back over the swab and close. With such a streamlined design, these new swabs save crime scene investigators time, subsequently expediting both transport and testing.
Popule® Self-Saturating Foam Swab
The newest addition to the Popule® family, is #25-4000, a self-saturating foam swab pre-filled with 2mL of sterile water. The self-saturating foam tip makes this product convenient and mess-free during sampling and collection of trace DNA. To use this product, take regular precautions to prevent contamination including the application of gloves and a mask prior to sampling. Open and remove the swab, holding the foam tip down, then squeeze the handle until it pops, releasing the sterile water into the foam tip. Next, simply apply the tip to the sample area, rubbing with moderate pressure and avoiding over-wetting the swab. Swab the designated area until DNA has been collected, then gently peel the foam tip, removing it from the handle and quickly placing it into a sterile container, then discarding the handle. This convenient, self-saturating option is increasingly popular in the forensics field and offers a mess-free alternative to other product choices.

Here at Puritan, we know that forensics labs have a choice when it comes to selecting the products used for evidence collection at crime scenes. Our constantly evolving product line reinforces our commitment to innovation and supports our mission to adapt our products to the needs of our customers. For more information on any of these new forensic product offerings, or help with ordering, simply contact one of our helpful associates today.