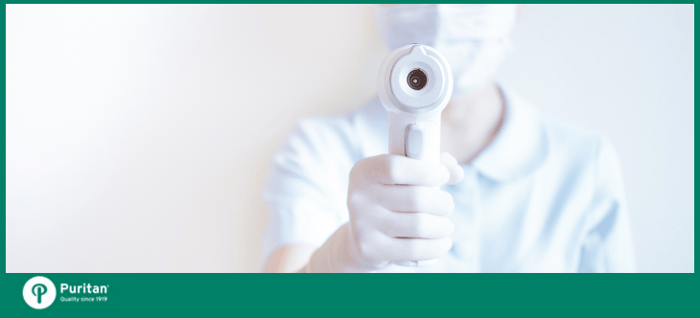 With flu season swiftly approaching, one of the many challenges practitioners will soon be grappling with is whether a symptomatic patient is likely to have COVID or the flu. A recent study provides a few clues that may help with diagnosis.
Why this is valuable information
There's a lot of overlap between flu symptoms and those associated with COVID-19. Common signs associated with both illnesses include fever, cough and fatigue. Patients with either virus may also report less-common symptoms such as muscle aches, gastrointestinal upset, congestion, sore throat, runny nose, loss of smell and headache.
While testing is the only way to rule in or rule out influenza virus or SARS-CoV-2, this study found that the order of symptom occurrence may provide insight into a potential diagnosis. Early indicators can help identify which patients to test quickly and provide useful guidance around taking precautions such as quarantining if COVID-19 is suspected. This is particularly important given that COVID-19 is two to three times more contagious than influenza.
Which came first: Cough or fever?
Researchers at the University of Southern California modeled and analyzed data from thousands of patients worldwide who were diagnosed with COVID-19, influenza, SARS (severe acute respiratory syndrome) and MERS (Middle Eastern respiratory syndrome). Their analysis showed that a cough is most likely the first symptom of the flu. In contrast, a fever is most often the first symptom of COVID-19 as well as SARS and MERS.
Study methodology
Published in the Frontiers in Public Health, researchers applied a Markov Process to a graded, partially ordered set based on clinical observation of COVID-19 cases to determine the most likely order of noticeable symptoms. These were then compared to the progression of symptoms for influenza, SARS and MERS to see if the diseases presented differently. Data from over 55,000 patients worldwide was used for the study.
Additional findings
Another interesting observation was that the upper GI tract tended to be affected before the lower GI tract in COVID-19 cases; the inverse was true for MERS and SARS cases. A very small percentage of COVID-19 patients experienced diarrhea as an initial symptom. However, each of these patients went on to eventually have pneumonia or respiratory failure, which researchers hypothesize meant they had a more aggressive form of COVID-19. This could also be helpful information for clinicians to keep in mind, though more research is needed to support this theory.
What it could mean
The researchers recommend that practitioners record the order of symptom occurrence for COVID-19 and other diseases. When medical professionals have clues that can help them discern differences in common symptoms, such as the order of occurrence and likely first symptoms, it can help with early detection of COVID-19 and future diseases. This could ultimately go a long way to help reduce the spread of outbreaks and could even contain them before they become epidemics or pandemics.
For on coronavirus, check out our COVID-19 portal with lots of handy tools and resources. Or get the latest news and information when you sign up for our newsletter.