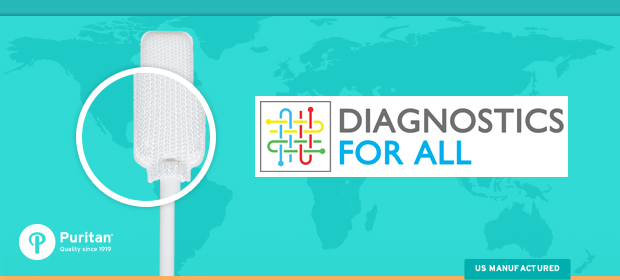 There is little debate over the need for low-cost, point-of-care diagnostic technology in the developing world. This March, Puritan donated 3,000 polyester tipped swabs to Boston-based non-profit, Diagnostics For All (DFA).
DFA is dedicated to stopping disease and saving lives in the developing world through the research and development of simple diagnostic devices. Of particular focus is the creation of an Immunity Assessment device, which will be used to "recover anti-tetanus and anti-measles antibodies from the oral fluid of pediatric patients."
PurSwab Knitted Polyester Swabs for Research & Development
To assist with the development of protocols for an upcoming test-phase in Zambia, Puritan donated three cases of our #3600 PurSwab Knitted Polyester Swabs. Our chemical resistant PurSwab swabs are designed for use in industrial and critical environments and will aid in the research and creation of of DFA's Immunity Assessment device.
We received a warm thank you note from Principal Scientist at Diagnostics For All, Jeremy Schonhom, Ph.D., which we've included (with transcription) below.
Puritan recognizes the role our single-use medical products can have in the implementation of these important new programs, and feel honored to have been able to contribute to such a worthy cause.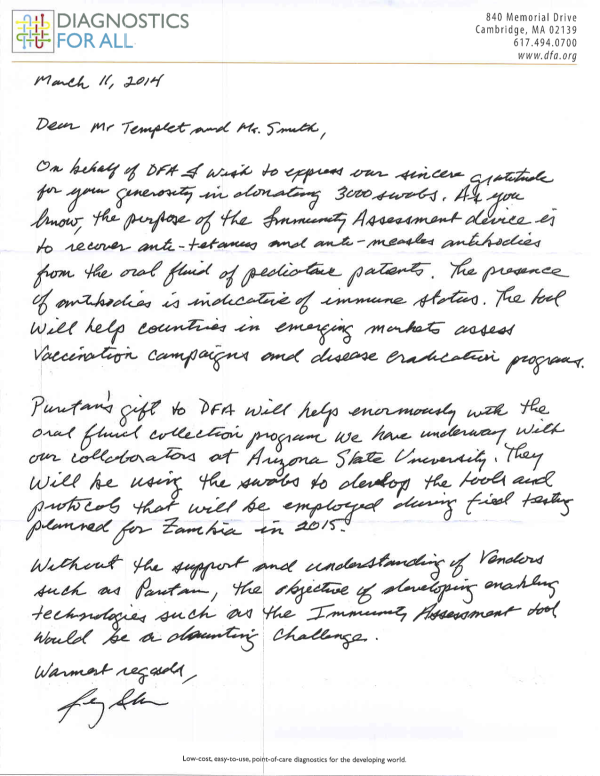 March 11, 2014
On behalf of DFA I write to express our sincere gratitude for your generosity in donating 3,000 swabs. As you know, the purpose of the Immunity Assessment device is to recover anti-tetanus and anti measles antibodies from the oral fluid of pediatric patients. The presence of antibodies is indicative in emerging markets across vaccination campaigns and disease eradication programs.
Puritan's gift to DFA will help enormously with the oral fluid collection grogram we have underway with our collaborators at Arizona State University. They will be using the swabs to develop the tools and protocols that will be employed during this testing planned for Zambia in 2015.
Without the support and understanding of vendors such as Puritan, the objective of developing enabling technologies such as the Immunity Assessment tool would be a daunting challenge.
Warmest Regards,
Jeremy Schonhom PhD
Principal Scientist
Diagnostics For All
http://www.dfa.org
Puritan Product Donated: 3600
Want to learn more about philanthropy at Puritan? Contact us today.