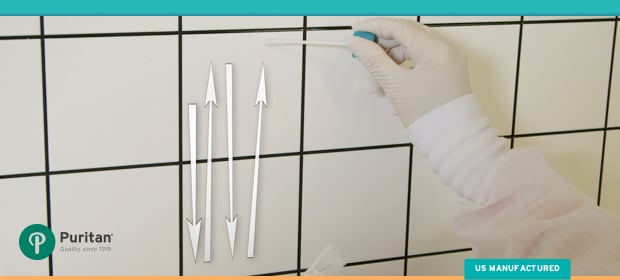 In industries like healthcare and food service, where clean surface areas are essential, the ability to perform on-the-spot quality control checks to verify sanitation procedures and detect microorganisms is crucial.
Puritan ESK® Sampling Kit
Puritan's ESK® Sampling Kit is the perfect tool for this type of environmental sampling, and can be used in a variety of applications. In this short informational video, we show you how to collect an environmental surface sample from a ceramic tile. A step-by-step transcript is below.
Steps to Collect an Environmental Surface Sample for Ceramic Tile
Put latex gloves onto hands.

Open and remove Puritan ESK® Sampling Kit from its package.

Remove Puritan ESK® swab from vial by holding the cap and twisting counter clockwise.

Using one side of the swab, collect a sample in a 50 square cm target area, or according to the established environmental monitoring program.

Rub the swab with firm pressure approximately 10 times in a horizontal, side-to-side motion following a "Z" pattern.

Turn swab to opposite side and swab approximately 10 times in a vertical, up-and-down motion over the surface area being sampled.
Swab diagonally using the same swab surface side used in the vertical swabbing.

Starting in the top corner of the sample area and using the "Z" pattern, swab approximately 10 times in sampling area, until the opposite side's bottom corner has been sampled.

Sample the grout that outlines the tile and/or the designated sampling area by rubbing the swab with firm pressure along the border of the tile.

Aseptically return swab into corresponding vial.

Tighten cap until tension is felt.

Label vial with appropriate information.

If immediate testing cannot be performed, place sample in a refrigerator until testing can be performed.
Keeping your work areas clean and free of microorganisms is essential to the successful operation of your facility. Ensure the safety of your clients and your reputation by using Puritan's ESK® Sampling Kit any time you need to validate your sanitation process.
If you have any further questions about our ESK® Sampling Kit or polyester tipped swabs, or if you'd like more information about our line of environmental sampling products, please feel free to contact our experienced product specialists today.