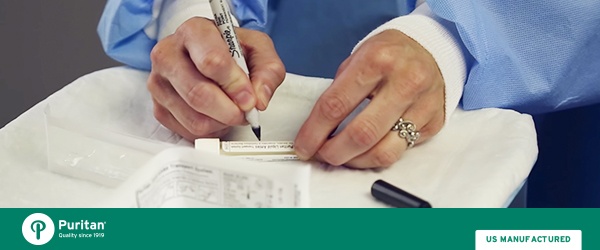 Got a patient who's exhibiting signs of strep throat or another bacterial infection?
A throat swab culture is the easiest way to test for and diagnose bacterial infections.
Collecting a throat swab culture is a simple procedure - but it's a precise one. You do need to do it right. This quick video shows you exactly what to do, step-by-step. You can even follow along with a video transcript below.
Steps to Collect a Throat Swab Specimen
Wash hands thoroughly
Put on gloves, surgical mask and protective eye-wear
Have the patient facing a strong light to ensure the area to be swabbed is visible
Open the package containing the HydraFlock® flocked swab and aseptically remove swab from package
Have the patient tilt their head backwards, open their mouth, and stick out their tongue
Use a wooden tongue depressor to hold the tongue in place
Without touching the sides of the mouth, use the sterile HydraFlock® flocked swab to swab the the posterior nasopharynx and the tonsillar arches
Insert swab into sterile liquid amies transport system vial
Break the swab handle at scored breakpoint line
Replace cap and tighten to secure
Remove and aseptically dispose of gloves and mask
Label liquid amies vial with appropriate information
Deliver samples to laboratory for testing
Here's hoping that this video transcript has given you a better idea (or a much-needed refresher) about how to collect a throat swab specimen for bacterial diagnoses.
Don't Forget a Quality Specimen Transport System
Puritan Opti-Swab® Liquid Amies Collection & Transport Systems are designed for the collection and transport of clinically significant bacteria. For the most accurate results, you'll want a system that includes a leak-proof, self-centering cap, and high performance flocked swab with a molded breakpoint. A well-designed liquid amies transport system includes everything you need to quickly and easily collect any bacterial specimen.
Conclusion
As always, if you have any questions about which Puritan products to choose for throat swabs or bacterial collection and transport, please contact a knowledageable product specialist today.