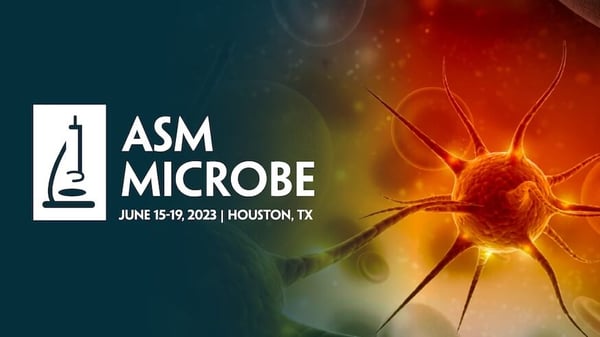 If you're in the microbiology space – chances are ASM Microbe 2023 is on your calendar. All of us at Puritan certainly have it on ours!
If this is your first time attending ASM Microbe or if you've been before but want a refresh, you may be asking yourself:
Who from my team should be at this conference?
Who is exhibiting?
What should I do to prepare?
What abstracts are being presented?
Should I set up meetings prior to attending the conference?
How do I shape my ASM Microbe experience to be what I want it to be?
Our team has been going to this conference for years, so we're happy to share some background information to answer your questions and prepare for what's to come. Let's dive in.
What is the ASM Microbe conference?
ASM Microbe is the flagship annual meeting for the American Society for Microbiology. It is the largest microbial science meeting in the entire world – which is why you can expect your peers across the industry to be in attendance.
To give you an idea of what you'll see when you arrive onsite, last year over 5,000 people attended this conference in Washington DC! When getting to the conference, you'll enter into a massive event conference space with every major diagnostic company from all over the world in attendance. You can expect to see poster presentations with the latest and greatest research, as well as exhibitors from major companies showcasing their products (like Puritan!).
This conference, in particular, has a large international presence, so you can also anticipate a number of different languages to be spoken by the attendees that are traveling to Houston from all over the world.
Where and when is the ASM Microbe conference being held?
This year, ASM Microbe will be held in Houston, Texas at the George R. Brown Convention Center from June 15-19, 2023.
Registration details for ASM Microbe
The standard registration date for this year's conference is May 24, 2023, so be sure to register ASAP if you plan to attend. Rates are as follows for standard registration:
ASM Member pricing
Premium - $770
Contributing, Global Outreach, Honorary, Medical Lab Specialist - $840
Postdoc, Postdoc Global Outreach - $545
Student Presenter, Emeritus, Student, Student Global Outreach - $420
Supporting - $1,135
Non-ASM Member pricing
Non-Member - $1,135
Postdoc - $925
Student - $570
Invited Speaker - $340
Non-Exhibiting Supplier - $1,350
Exhibitor Booth Personnel - $110
Please note that after May 24, 2023 these rates will go up to accommodate late registration fees.
Who is speaking at ASM Microbe?
Headline speakers for this year's ASM Microbe conference include Andy Weir, novelist and former computer programmer, Kate Rubins, PhD, microbiologist, John Nkengasong, PhD, MS virologist, Edward Holmes, PhD, FRS, FAA, biologist and virologist, and Folasade Ogunsola, PhD, FNAMed, FAMedS, FAS, professor of medical microbiology.
In addition to these science superstars, there are over 200 sessions covering nine scientific disciplines to attend, meaning that your ASM Microbe day is sure to be jam-packed with presentations. The nine science tracks that these sessions fall under include:
Antimicrobial Agents and Resistance
Clinical Infections and Vaccines
Ecology, Evolution, and Biodiversity
Molecular Biology and Physiology
Climate Change and Microbes
Applied and Environmental Science
Clinical and Public Health Microbiology
Host-Microbe Biology
Profession of Microbiology
Keep an eye on the ASM Microbe website and social media channels – Twitter, LinkedIn, Facebook – for more information on who is speaking and the release of the final agenda.
Should I schedule networking meetings ahead of ASM Microbe?
We highly recommend it! Going into any conference with a game plan is always a good thing - but especially when you have business to attend to. We can assure you that, no matter where the ASM Microbe conference is held, they do a great job of creating spaces throughout the event hall for you to have private or open-discussion meetings. If some of your colleagues or vendors are planning to be at ASM Microbe 2023, consider scheduling a meeting with them prior to the conference to ensure you have the necessary time to chat about everything you want to cover.
With this tip in mind, we have a few others that may be helpful to prepare for your time at ASM Microbe.
5 tips to prepare for the ASM Microbe Conference
While Houston is a huge city, when you're at a conference, you want to be where the action is! By booking your hotel room ASAP, you can save money by taking advantage of the hotel room blocks and stay as close as possible to the event. Win-win. To make it turn-key for attendees, this year ASM Microbe is partnering with Maritz Global Events – book your room with them today at a discounted rate that fits a number of different budget ranges.
ASM Microbe is such a big conference, that there are a number of ways you can spend your time. From exhibiting and networking to attending relevant presentations, be sure to think about your goals going into the conference so you can plan a schedule that works best for you.
A unique way to plan your schedule for ASM Microbe 2023 is by using their track quiz feature. The quiz asks about your scientific focus and pinpoints a specific track that may be interesting for you to explore during your time at the conference. By answering two short questions, you'll learn which speakers are being featured under the track that is most relevant to you. This tool then allows you to curate a personalized agenda that's unique to your work and interests.
Connect with fellow attendees via social media
Almost every conference has a hashtag to encourage live tweeting and posting on your personal, professional, and/or organizational social media channels – this year's hashtag is #ASMicrobe for your ease of reference. When attending the conference, consider checking out the hashtag feed to learn about what others are experiencing at the conference, connect with like minded individuals, and (potentially) alter your agenda to incorporate a track or presentation that's of interest.
Purchase a new notebook and plan to take notes
This might seem like an obvious tip, but having a notebook with you at a conference is key. Instead of using your laptop, consider taking notes the old fashioned way. Why? Well, not only will this help to remember key takeaways from presentations you attend, but if you meet someone where you want to take down some notes during your interaction, the old fashioned way allows you to remain present and engaged without the distraction of technology.
Learn what companies are attending to determine networking opportunities
At ASM Microbe, there are dozens of participating companies and organizations present that offer various services or products. If your work is dependent on a certain product or service, do some research ahead of the conference to learn about who will be present and what they are offering while they're there. Chances are they'll have a booth where you can go meet with them, network, and discover new offerings that may help your microbe science work or research. You can find a list of exhibitors on the ASM Microbe website. Be sure to check back consistently leading up to the conference to see if any late additions have been made.
What is Puritan planning to share at ASM Microbe?
For anyone wanting to connect with us at ASM Microbe, come see the Puritan team at booth #1125. When visiting with us, we'll be sharing our products that can support your business needs, including:
In addition to seeing us at our booth, we plan to attend a number of presentations throughout the conference that are relevant to our business line. We hope to see you at:
Friday, June 16, 2023:

Panel Discussion, 3-4 pm: PD003 Panel Discussion (CPHM) – Automation in Clinical Microbiology − 10 Years of Experience
In-Depth Symposium, 1:45-3:45 pm: IDS015 In-Depth (AES) – Emerging food safety challenges and solutions in a changing climate
Meet-the-expert, 5:15-6:15 pm: MTE008 Meet-the-Expert (MBP) - The World of Viruses
Saturday, June 17, 2023:

Track Hub, 12:45-1:30 pm, TH032 Track Hub (CIV) – History of Pandemics
In-depth Symposium, 1:45-3:45 pm: IDS038 In-Depth (CIV) – Emerging infections - What is the next Pandemic (focus on Nipah and Marburg)
Sunday, June 18, 2023:

Rapid Fire, 9:15-10:15 am: RF022 CPHM Rapid Fire Presentations – All Things Covid-19
In-depth Symposium, 8:15-10:15 am: IDS058 In-Depth (CPHM) – In with the new and old viruses: clinical virology diagnostics for all
For the full scientific program, please visit the ASM Microbe website.
If you're interested in chatting with us, please get in touch with our Director of Sales for the South Region, Mat Archambeault, and our Business Development Territory Sales for Mexico, Central & South America, Elaine Seavey Maliff. We can't wait to hear from you.
Will we see you at ASM Microbe this year?
The Puritan team is so excited to see our partners and colleagues in Houston next month. If you're planning to be there and would like to chat with us, please get in touch – we'd love to hear from you and meet you in person!