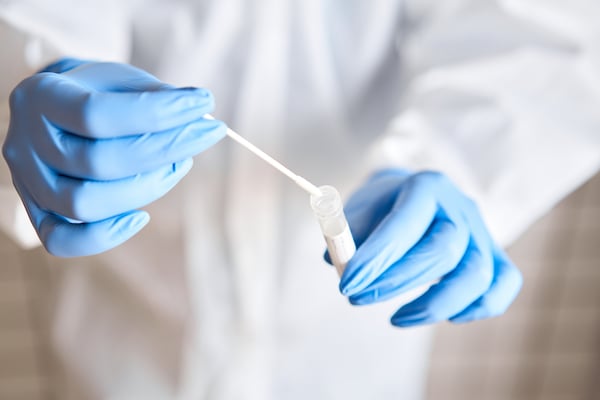 From the shift to tests at home to the comfort of nasal swab tests over nasopharyngeal sampling, there have been a number of changes in how we test for COVID-19. Puritan Medical Products is introducing one more shift with the introduction of a 3" specimen collection swab.
This foam-tipped applicator is 3 inches shorter than other swabs used for COVID-19 testing, but its smaller stature carries big benefits. Discover these advantages, and answers to the most frequently asked questions about this new swab, below.
Meet Puritan's 3" Specimen Collection Swab
Puritan is now offering its best-selling 6" foam nasal swab in a 3" version. Aside from the shorter polystyrene handle, there's virtually no difference in the swab. It has the same sterile foam tip, and the same high particle collection capacity, as its popular and effective 6" relative.

Of course, this begs the question, if there is no difference between these two swabs aside from the handle length, what exactly is the advantage of offering a 3" specimen collection swab?
It turns out, there's plenty of reason for COVID Antigen test kit providers, retailers, and consumers to be excited for this new offering. We've highlighted the advantages below, but encourage you to check these benefits out for yourself.
What are the Benefits of a 3" Diagnostic Swab?
With more COVID tests taking place at home than in the physician's office, test kit providers and retailers are working to make specimen collection test kits easily accessible to consumers. The 3" swab offers each of these groups a few key advantages, noted below.
1. Easier for sampling
The shorter handle on the 3" specimen collection swab eliminates some of the confusion consumers have faced around how far to insert a swab for an accurate nasal swab test sample. Experts recommend inserting the swab into the nostril only ½ to ¾ inch for accurate test results. This is less than the recommendations for nasopharyngeal swab specimens, and the smaller size of the swab helps make this clear in a glance.
Discover how to correctly perform a COVID nasal swab test here.
2. Less intimidating for young children
While the idea of a nasal swab may seem uncomfortable to anyone, it can be a particularly intimidating experience for the youngest patients. Using a 3" swab can go a long way toward putting young children's fears to rest and speed the test experience. Not only does the shorter length seem less daunting, but these shorter swabs are not much different from the cotton swabs children traditionally use for home care and in crafts. There's comfort to be found in this familiarity.
3. Same quality results
Shortening the length of the swab handle has no impact whatsoever on the amount of material making up the 3" swab's tip. At-home test-takers, and laboratories that may be responsible for analyzing results, will find that these shorter swabs achieve the same sample size as the 6" foam nasal swab.
4. Makes for smaller package requirements for at-home kits
It's simple math: shorter swabs require less packaging. However, there are big implications to this. With shorter swabs, at-home kit providers can use less interior packaging and smaller boxes to deliver their kits. This offers big potential for raw material cost savings. Moreover, kit providers may find they can ship more boxes per load, reducing their transport costs over time.
5. Easier to store in bulk
COVID test kit providers aren't the only ones to see the value smaller swabs offer by requiring less packaging. The 3" specimen collection swabs' smaller packaging size makes it easier for retailers and consumers to store these products. At a time when many retailers are adding services in existing spaces (trending towards smaller store footprints), compact packaging allows stores to put more packages onto a smaller shelf.
6. Better for the environment
Shorter handles and smaller packaging both help minimize swabs' impact on the environment. While a 3" reduction in handle size may not sound like a lot, multiplying that by the millions of swabs Puritan Medical routinely manufactures can add up fast. For companies committed to sustainability, the 3" specimen collection swab offers a simple way to do more with less.
Convinced that the 3" swab might be right for you? The best way to understand these advantages is to contact your distributor and purchase it today.
Frequently Asked Questions about 3 Inch Swabs
While we believe that the 3" swab's advantages speak for themselves, we also wish to address the most frequently asked questions we've received about this new offering.
Is this swab the same as the 6" version?
In an answer as short as the 3" handle–yes! The 3 inch foam nasal swab comes with a 0.185" (4.7 mm) tip length with consistent collection capacity, much like its longer counterpart. In addition to COVID testing, the 3" swab is also recommended for other diagnostic testing. Both swabs are made entirely in the United States, ensuring rapid delivery.
Are the results the same as the standard swab?
Test kit providers, healthcare providers, and consumers can expect the same level of testing accuracy when analyzing samples collected via the 3" swab as compared to our traditional 6" foam nasal swab. Accuracy begins with using the right materials, but also requires that individuals follow instructions provided for testing.
According to the FDA, positive results are typically accurate. However, at-home COVID tests can sometimes provide false negative results. This can happen due to inaccurate testing technique or by testing too soon after being infected.
Are these swabs available to customize or order in bulk?
To meet test kit providers' needs, we've made the 3" specimen collection swab available in bulk cases of 1,000 individually wrapped swabs. For test kit providers with unique demands, we encourage you to reach out to discuss the potential for developing a custom solution.
Why use Puritan 3 Inch specimen collection swabs?
Whether you are ready to try the 3" specimen collection swab or prefer to stick with the proven results of the 6" foam nasal swab, you can't go wrong. In addition to the advantages listed above, our swabs offer the additional benefit of being made entirely in the United States, in state-of-the-art factories that ensure every swab we produce demonstrates consistent levels of excellence.
Our team works hard to develop high-quality products to better suit our customers' needs, and our newest swab is no different. If you're ready to add new value to your customers, try the 3" swab today.