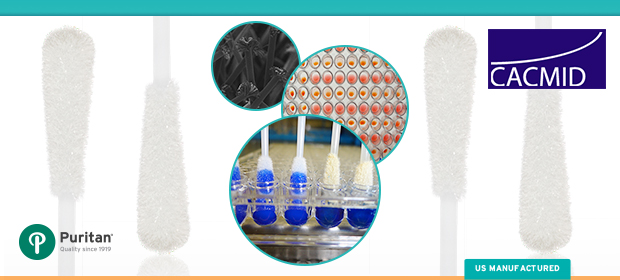 A recent study, first presented at CACMID 2014 in Victoria, British Columbia, offers a simple alternative method for measuring flocked swab absorption capacity.
The new uptake experiments demonstrated that Puritan's HydraFlock® flocked swab has a "greater propensity to absorb fluids than Copan's nylon flocked swab."
Previous research methods for determining fluid absorption capacity included assessments of complex measurements such as:
Scanning Electron Microscopy (SEM)
Radioactive Tracer (RT)
Zeta Potential (ZP)
Water Absorbance
Protein Absorbance

The new study drastically simplifies this methodology. It uses spectrophotometric (OD) measurement techniques to validate the absorption capacities of Puritan's HydraFlock® swab and Copan's nylon flocked swab in various suspensions.
Using the OD method, a red dye assessment, and a lactophenol cotton blue dye test, the experiment showed that the Copan swabs had more leftover inoculum than the Puritan swabs; clearly demonstrating the HydraFlock®'s ability to absorb and retain specimen at a higher rate than Copan's nylon flocked swab.
Want to learn more about HydraFlock®'s superior absorption capacity? Contact one of our knowledgeable product specialists for more information.