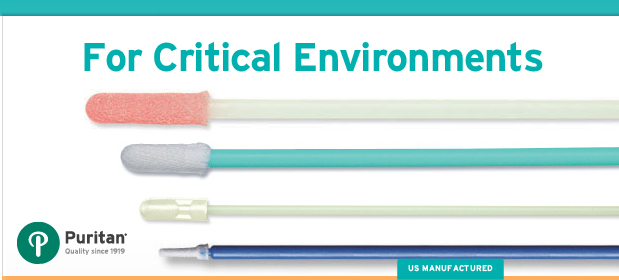 You can't do the right job if you don't have the right swab.
As North America's largest manufacturer of single-use medical products, we supply hundreds of different single-use medical and lab products. So we understand how important it is to choose the right swab for critical environments in manufacturing and industry.
Many of our products are used in critical environments for manufacturing and industry so we want to highlight a few of our products that are likely to be in those industries. Our swabs and other products are used in labs around the world in industries such as healthcare, diagnostics, fiber optics, electronics, semiconductors, precision manufacturing and more.
Knitted Polyester Swabs
Our knitted polyester swabs are non-abrasive and lint-free and can easily stand up to IPA, acetone, and other solvents commonly used in clean rooms and other critical environments.
These swabs are non-absorbent, have low particle generation, low NVRs (non-volatile residues), good chemical resistance, and are suitable for cleanrooms. Made and vacuum packed in our Class 1,000 cleanroom, Puritan's knitted polyester swabs are ideal for cleaning electronic and communication devices and perfect for instrumentation and medical device manufacturing.
MicroFiber Swabs
If your application requires an absorbent swab that has low particle generation and low NVRs, yet is soft and non-abrasive, check out Puritan's microfiber line. Microfiber swabs offer excellent wipe-dry characteristics and are safe to use on and around static-sensitive components. They're ideal for removing contaminants and excess materials in your critical environment. That's why they're often used with fiber optics component manufacturing.
Foam Tipped Swabs
Foam tipped swabs come in many different configurations, including Puritan's PurSwab® foam-tipped applicators. These are good for removing epoxy residue from connectors, general cleaning or as a flux remover. Puritan's PurSwab® applicators also have thermal edge seals and thermal bonding to the handle so the sponge-like foam picks-up unwanted particles without releasing any into your critical environment.
Specialty Tipped Swabs
Sometimes you can't find the right swab for your needs – or you've found a way to boost productivity by using a swab that may not be mass produced. Specialty tipped swabs come in a range of shapes, sizes, and materials. Puritan's ESD swabs are designed for working in and around highly static-sensitive components and parts. Puritan also offers the Popule®, a self-saturating swab with a non-glass handle that can be filled with virtually any solution. Our Popules® are pre-filled and ready to use, offering you the convenience of a swab and solution in one.
Puritan is trusted worldwide for its U.S.-made, single-use products for the healthcare, diagnostic, forensic, critical environment, food safety, and drug manufacturing industries. All of our products are made at our state-of-the-art manufacturing plant in Guilford, Maine.
For more information such as a complete product catalog, visit us online at: www.puritanmedproducts.com.
This post was originally published as a guest post with Q Source by Puritan VP of Sales - Northeast, Ashley McKusick.