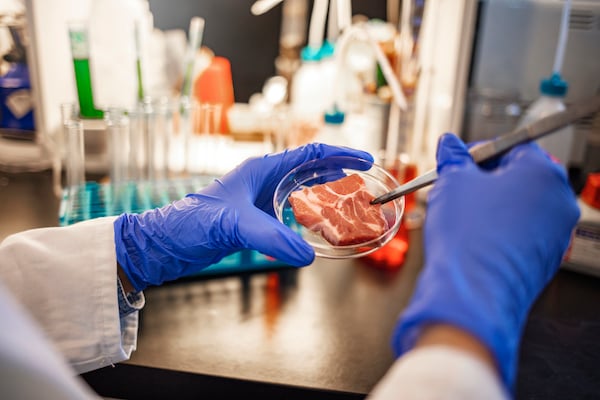 Wondering if your space is clean? In some facilities, a visual inspection might be more than enough to do the trick. But in other spaces – like food production areas or healthcare facilities where bacteria, fungi, and other microscopic contaminants can cause major health problems – you need to be certain of cleanliness. This is where an ATP swab test can be an invaluable tool.
What is ATP testing?
ATP, or adenosine triphosphate, is an energy molecule present in all living things. Testing for ATP can indicate whether an organism of some type is present or growing on the tested surface, even if no such growth is visible to the naked eye.
The presence of ATP is determined through a quick and simple test. A swab is used to collect a sample from the surface in question. Next, the swab is analyzed using an ATP luminometer. The luminometer creates a reaction with the ATP that generates a bioluminescent reaction. The amount of light produced indicates the amount of ATP present in the collected sample. Results are generally expressed numerically as a relative light unit (RLU), with a high RLU reading indicating that additional cleaning is needed.
It is important to note that ATP testing does not indicate exactly what types of organisms are present. In addition, ATP tests cannot be used to identify the presence of viruses.
Why is ATP testing important?
ATP testing has become an integral part of cleanliness across many industries where a sanitary environment is critical for end users' or occupants' health and safety. Examples include:
Food production: The FDA notes that environmental sampling can be a part of its inspection process for manufacturing plants, commercial kitchens, and similar regulated facilities. This sampling is used to ensure no harmful bacteria, such as Salmonella spp. or Listeria monocytogenes, is present. ATP testing can help these organizations perform their own testing prior to an FDA inspection, quickly verifying that cleaning practices are sufficient.
Breweries and wineries: As Craft Brewing Business points out, effective ATP monitoring can help prevent any cross-contamination during brewing, ensure product integrity, and improve beer's shelf life.
Healthcare facilities: ATP testing serves as a quick and easy strategy to verify that surfaces are in compliance with cleanliness standards. While ATP testing cannot check for the presence of viruses, it can be helpful in demonstrating that high-touch surfaces are free of bacteria, an indication of other potential contamination.
Cleanroom applications: Pharmaceutical, electronic, and medical device manufacturing facilities must meet stringent cleanliness requirements, set by standards such as ISO 7. ATP testing can be a useful tool in helping to verify that these standards are met.
What is an ATP swab?
It's up to the luminometer manufacturer to select the type of swab used to perform the ATP test, and manufacturers have several swab options from which to select. Foam is in wide use for these applications. Spun fiber and flock swabs are also suitable collection swabs for ATP. Three- and six-inch swab options are available.
The key here is to select a swab produced with ATP controls in place. ATP swabs must be manufactured in a controlled environment to prevent the potential for contamination that could skew test results. This ATP-free production process may be designed to achieve an agreed upon level of ATP detection acceptable to both luminometer and swab manufacturers.
How to do an ATP swab test
Luminometer manufacturers will provide specific guidelines for recommended ATP sample collection techniques. In general, however, there are a few best practices to consider when performing an ATP test:
Always use an ATP-free swab to prevent potential contamination.
Collection should be performed wearing ATP-free gloves.
Collection can be done from a surface, crevice, drain, or any other surface where a material may be present that could contaminate the environment or product.
Do not touch the swab tip to any surface beyond the one being tested.
Once the test is complete, the swab should be safely returned to its packaging for laboratory testing or to the luminometer for onsite evaluation.
Trust Puritan for your ATP swab needs
Are you looking for an ATP-controlled swab for use with your instrument or ATP testing process? Puritan can produce ATP swabs in accordance with your specifications. Our R&D, purchasing, quality and production teams are well versed in the manufacture of ATP-controlled swabs. We have supplied nationally recognized leaders in the environmental sampling industry with these essential devices for more than 20 years.
Contact Puritan to discuss your needs for a specially designed product and custom packaging.