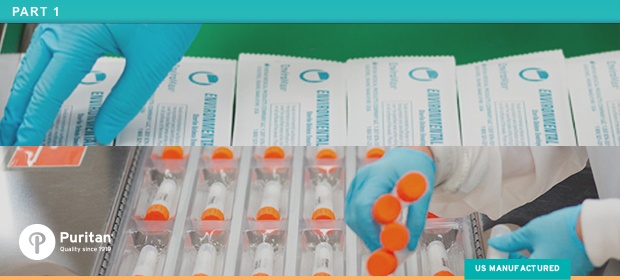 Many companies find value in product customization. But is it right for yours?
Deciding when and how to get your name in front of customers can be a tricky proposition. Should you customize your lab kits, swabs and other single-use medical products? What are the options, and which is best for your business?
There's a lot to consider.
This post gives you five key points to keep in mind as you weigh your options:
Why customize your product
Why hold off on customization
Why consider co-branding
When customization is worth the investment
What to look for in a manufacturing partner
Why Customize Your Product
Maybe you need a custom media for a special application. Or maybe you just want your logo in the hands of lab techs around the globe. Of all the reasons to customize your product, these are two of the big ones:
To increase brand recognition for your new product
To assure a reorder: familiarity with your brand builds confidence and loyalty
Three Reasons to Hold Off on Customization
Customization is not the right choice for everyone. Here are a couple of reasons you should put customized lab kits on the back burner:
Your brand has no following
Your volume requirements are too low to meet minimums/low volume cost is too high
You will wait until you have assurance the product is successful before identifying it as yours
Three Reasons to Consider Co-Branding
Unlike custom private labeling, co-branding is an arrangement that allows two companies to combine the strength of their respective expertise and offer a product branded by both.
When you co-brand with a well-known manufacturer, your brand benefits from its association with that manufacturer's standing in your industry. When a manufacturer co-brands with you, they benefit from your endorsement.
Here are three reasons to consider co-branding:
Your brand is new. Identifying with a known brand brings confidence to the end user
You need market validation. Partnering with a known brand raises status
Your manufacturer brings certifications needed to meet market requirements

When Customization is Worth the Investment
Creating custom configurations, printing custom labels, and formulating custom media is generally more expensive than purchasing stock products. But many times, the investment in customization pays dividends in long-term ROI.
If your business meets any of the criteria below, it's likely worth it to invest in a custom solution or private label:
Your market is reaching for or has reached outside your region
You have a patented product
Your business model is based on end users reordering from you
You have established your place in your market and want to differentiate
your product from ones of lesser value
You require large volumes of product that warrant meeting high minimum requirements
What to Look for in a Manufacturing Partner
Customization is a rapidly expanding market for businesses that specialize in the development of innovative products. You'll want to partner with an experienced team that listens carefully to what you want to accomplish and is capable of developing products configured to your specifications.
Your partner's research and development program should be able to provide custom solutions in the following areas:
Configurations and packaging
Private labeling
Custom media filling
Most important, select a partner who is willing to talk you through the many options available and which one their experience tells them is best for your business.
Want to learn more about our custom capabilities? Click below to speak with a knowledgeable sales representative.