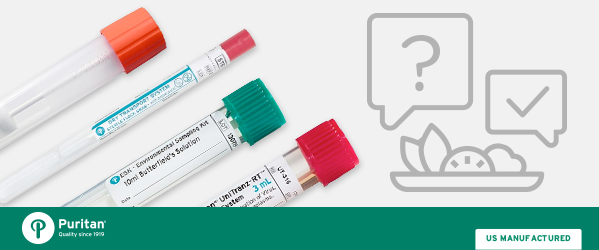 Whenever we're able, we like to answer questions people ask about how Puritan products can help in their industry. Here is some great information for our friends in food processing and service.
Q: Who is responsible for following food safety guidelines?
Food providers and processors

Restaurant management and staff, from purchasing to preparing to serving

Food service personnel in schools, hospitals, and camps

Organizers and volunteers in programs that provide meals to the community
Q: When and where is adherence to food safety guidelines important?
When planning your restaurant, food service area, or community program

When training personnel

When transporting and storing all food and finished food products

In the prep area

In the serving area

From the beginning of the work day to the end
Q: How is compliance with food safety guidelines maintained?
Training of new personnel at hiring and in regular follow up sessions

Monitoring of refrigeration and freezing equipment for appropriate storage temperatures

Testing of surfaces and contact points in all areas, scheduled and random
Q: How are Puritan products used in food safety?
It starts at the beginning. Those that produce and market ingredients for food products are as critical to the mission of food safety as those who serve it to the public. All along the way, testing is done to assure food and food products are contaminant free. Puritan products are included in most testing protocols for specimen collection and environmental sampling.
Chicken producers, for example, swab birds for respiratory illness using Puritan's flocked swabs and UniTranz filled vials.
This sterile swab was chosen for its size—it has a small diameter tip and a slender, flexible shaft—and its superior collection and release properties.
Meat packers swab beef and other carcasses with Puritan's EnviroMax swab. With the large foam tip and user-friendly cap/handle configuration, sampling is easy.
Beverage bottlers utilize Puritan's ESK product to sample contact points for any contamination that may have entered the processing area. Rex Simcox, a Microbiological Technician and Water Quality Specialist at United Packers of Chattanooga, LLC uses a polyester tipped swab packed with 10ml of Butterfields Solution.
Simcox notes, "I am well pleased with the results, as well as the simplicity."
And public health professionals responding to a reported outbreak of foodborne illness swab for evidence to be processed by the CDC often rely on Puritan's dry transport swabs for this important work.
Following an outbreak of foodborne illness at a church supper, a state public health lab selected our HydraFlock sterile flocked swabs to collect specimens for immediate shipment to the CDC for processing.
This swab was found to incorporate excellent collection and release properties with an easy-to-manage, secure transport tube at an economical price—all features important for this state agency. Puritan's products all being U.S.-made was another big plus for this lab.
If you have more questions about which Puritan products are right for your operations, we have customer support specialists standing by to talk with you. Contact us today!