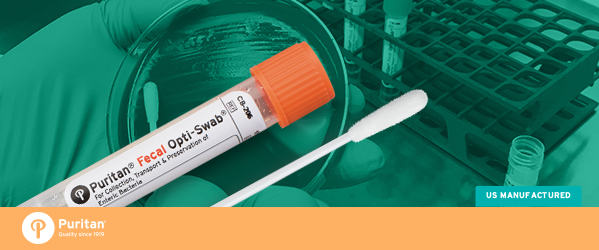 Good news for those who love the superior performance of our Opti-Swab line: a new product has just hit the market.
Puritan has developed a new Fecal Opti-Swab® Collection and Transport System for the collection and transport of clinical fecal and rectal swab specimens. The transport system preserves the viability of enteric bacteria during transport, from the collection site to the testing laboratory, for bacteriological examination and culture.
The advantages of our new Fecal Opti-Swab are clear:
The bacteria recovery performance evaluation solidly outperforms the competition

The unique microstructure of individual fibers in HydraFlock® flocked swab maximizes the absorption and elution of samples

No chemicals are added to the swab tip fibers

All components are manufactured from medical grade plastics and tested to meet requirements for safe transport of infectious materials
Each sterile pre-labeled polypropylene screw-cap vial contains 2mL of Cary-Blair medium and one HydraFlock® swab.
Interested in more product or ordering information? Contact one of our knowledgeable sales reps today. You can also click below to download a free how-to guide for learning proper stool sample collection.