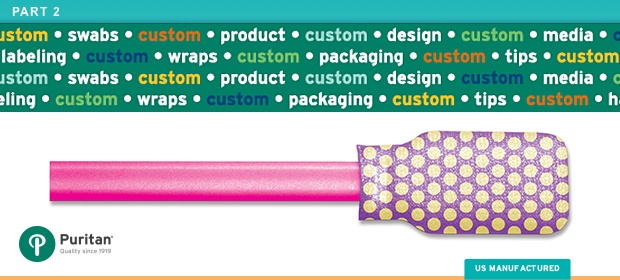 Did you catch our previous post about how to decide whether customization is right for you? If not, we recommend you check out that post before diving into the specifics discussed here.
Got it? Great! If, after reading, you determine you need more information about customization, head back over to learn exactly what information you should have on hand before contacting Puritan to discuss your custom product.
Step 1: Pre-Project Requirements
The information we'll gather first is about you and your product requirements. This gives us an idea of the questions we need to ask to make the best swab, collection device, or transport system for you.
The following is a preliminary list of questions our sales reps need to know to help you find the best solution.
A little about you: Are you a current or new customer? OEM or end-user?

What is the intended application? Will this be a stand-alone device or a component included in a kit?

Do you require customization of an existing product or development of a new item?

What is the expected sales volume?

Do you have a resale certificate or blanket certificate of sales tax exemption for each state where product will be shipped? (This is not required for customers outside of the United States.)

Will this be a co-branded or private labeled product? If so, we'll work with you to discuss an array of packaging, labeling, and artwork options.

Will the product need to be CE marked? Are there any other regulatory requirements that need to be considered?
Don't know the answers to some of these? No worries. Our experienced product specialists can help you determine your specific needs based on industry specific applications and the size of your organization.
Step 2: Define Your Product
Once we have a handle (pun intended) on who you are and how we need to deliver the customized product to you, we'll move to the next step.
In order for us to help you design, configure, and manufacture a product for your specific needs, we collect basic details about your desired product configuration. We start here:
Sterile or non-sterile

Performance criteria

Media fill amounts or custom media solutions
Then we consider:
Packaging and labeling, including private labeling
Artwork guidelines
Order frequency (monthly, quarterly, annually, etc.)
Shelf life and documentation
Step 3: Customization Begins
Once we understand and finalize your product needs, we'll begin the customization process. Our sales team will understand your requirements so that both your specifications and timeline is met. Product samples and proposed pricing will be provided along the way.
Please be assured your custom request will be worth the wait and will be of the highest quality with our unwavering commitment to that standard.
Ready to get started?