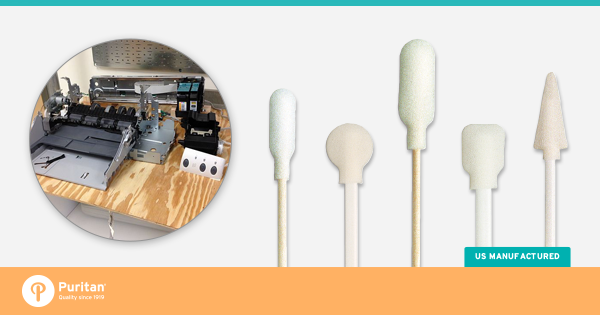 In critical environments of industrial and manufacturing, if you're in the market for swab that hits hard-to-reach places, the foam tipped swab might be the tool for you.
Foam tipped swabs come in many different configurations, including Puritan's PurSwab® foam-tipped applicators. Good for a variety of industrial uses, these are especially effective as general cleaning applicators. In this article, we'll outline the different types of foam tipped swabs, and how they can best be used in commercial, industrial, and home cleaning practices.
Foam Tipped Swabs vs Cotton Swabs for Cleaning
Foam swabs are far superior to cotton swabs when it comes to cleaning. When precision cleaning and cleanliness is your end game, our foam tipped swabs and devices have you covered.
Foam tipped applicators are designed for use in specific environments like precision manufacturing, fiber optics, electronics, semiconductors, printing, aerospace, biotechnology, and pharmaceuticals to name a few. Foam tipped cleaning swabs are available in a variety of tip shapes, sizes, and handle configurations, our foam swabs ensure your work area stays clean.
Below we've included some product highlights to help you better familiarize yourself:
PurSwab® General Foam Tipped Swabs
All of our industrial foam tipped applicators are made from soft, synthetic polyurethane foam tips. The foam is produced in sheet form and ranges in porposity, but most commonly is 100 PPI (pores per inch) which provides good entrapment of particles. Each tip is thermally bonded to the swab handle so the sponge like foam contains no contaminating adhesives, making it lint and residue free.
Foam Tipped Swab Uses:
General cleaning swab.

Machine tool and mold cleaning.

Printer cleaning and maintenance.

Application of adhesives, solvents, coatings, sealants.

Removal of contaminants.

Can be used wet (IPA, DI water) or dry.

Precision cleaning and inspection processes.
Product Examples
1105: 4", Small soft foam swab with polypropylene handle. Non‐abrasive tip good for cleaning surfaces.




1605‐PSF RECT:5", Small rectangular foam swab with polypropylene handle. Used for coating rechargeable copier cartridges. Great to use in hard-to-reach areas.




1805‐PF RND:5" large round foam swab with polypropylene handle. General purpose cleaning swab for cleaning curved surfaces.
PurSwab® Foam over Cotton Tipped Applicators
The inner cotton core provides these foam-over-cotton swabs an extra padding and level of absorbency. This provides good chemical and shred resistance when used as a cleaning applicator. You will often use these with some sort of solvent, such as IPA, or DI water. Check out how they are used along with product examples below:
Foam Over Cotton Tipped Swab Uses:
Critical-environment, general cleaning swab.

Applying adhesives or other solutions – can be used with IPA and DI water.

Removing contamination, applying solvents, adhesives, sealants, and lubricants.
Product Examples
1806‐PCF: 6", Standard foam over cotton swab with polypropylene handle. General

cleaning swab.

1806‐WCFL: 6", Large foam over cotton swab with wood handle. Ideal for cleaning large

surfaces, tip is extra absorbent.

1806‐WCSF: 6", Small foam over cotton swab with wood handle.
Still Need a Tip? Contact Us Today!
So, if you're in the market for a swab that can get into hard-to-reach areas, clean and make a smooth extraction, our industrial strength foam tipped swabs are for you. We even have a handy foam swab cross reference sheet to help you in your search.
Puritan's line of industrial and critical environment swabs are manufactured in an ISO:2008 certified and CE-compliant facility providing reliable, consistent performance to ensure the quality of your end product. And please remember, we are always here to discuss your custom order needs.