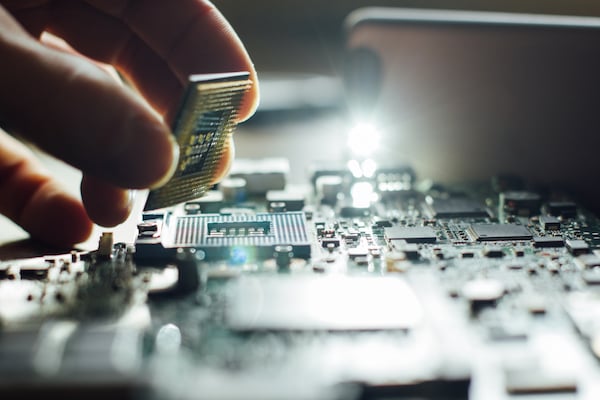 In the critical environments of industry and manufacturing, if you're in the market for the right swab for delicate or hard-to-reach places, the foam tipped swab might be the tool for you.

Foam tipped swabs for industry are available in many different configurations. In this product category you'll find Puritan's PurSwab® line of specialty cleaning swabs.

Here we'll outline the different types of foam tipped swabs, and the common uses for them.
What is a foam cleaning swab?
A foam tip cleaning swab is, essentially, a very simple tool – a foam tip on a stick includes tools with attributes specifically suited for critical environments that are far from simple. These environments may be electronics, medical device manufacture, optics or aerospace. Any precision instrument that is sensitive to dust, lint or electro static discharge requires cleaning with these specialty tools.
What are the benefits of using a foam cleaning swab?
The properties that render these ideal for cleaning printed circuit boards or cameras, for instance, are inherent in the foam tip. For general CE cleaning, polyurethane foam is soft and will not scratch delicate instruments. This material doesn't shed the lint associated with fiber tips such as cotton. The tip is fabricated by a means that will not introduce adhesive – nothing will be left behind on the surface being cleaned. And, the foam, while gently scrubbing the surface to be cleaned, holds the solvent being used and lifts any debris or material away from the work.

Think of the many areas where critical cleaning is needed: laboratory equipment, medical instruments, testing and inspection instruments, sound equipment, personal computers, precision pumps, telecommunications, printers, system controls, vending machines, robotics are just a few. Foam swabs are far superior to cotton swabs when it comes to cleaning. When precision cleaning is your endgame, foam tipped swabs have you covered.

There are a number of benefits to using a foam tip cleaning swab versus other types of cleaning swabs.
1. Foam swabs are lint-free
Foam swabs for cleaning are made from a synthetic material that does not leave behind lint or fibers like cotton swabs can. This is especially important when cleaning August 2021 3 electronic devices and other precision equipment, as lint can be conductive and cause damage or failure.
2. Foam swabs assure cleaning efficiency
The foam tip holds the solvent and delivers it to the surface being cleaned, assuring cleaning efficiency. Foam swabs remove contaminants by using a combination of mechanical and chemical action. The foam tip wipes or gently scrubs the surface being cleaned, while the cleaning solution dissolves and loosens contaminants that are then lifted away on the swab tip.
3. Foam swabs work in a number of applications and industries
Foam swabs can be used with a variety of cleaning solutions and are suitable for cleaning a wide range of equipment and surfaces. For use with the harshest solvents, choose chemical resistant foam tips.
4. Foam swabs are cost-effective and can be ordered in bulk
Foam swabs are often less expensive than cleaning swabs of fabric or non-woven material making them a more cost-effective option for many cleaning tasks.
5. Foam swabs are durable
While soft and gentle, foam swabs are durable and, depending on the solvent and the surface being cleaned, can be used multiple times. In addition, foam tips are available in broad and flat configurations for larger surfaces or small and cylindrical shapes to reach around and under components or into tight spaces.
6. Foam swabs are tough on contaminants, but gentle on your equipment
Foam tips are soft and pliable, which makes them gentle on surfaces and delicate equipment. Overall, foam tip cleaning swabs are an effective and versatile tool for cleaning smooth surfaces as well as small or hard-to-reach areas. They are suitable for use in a variety of industries and applications.
What are the ideal applications for foam cleaning swabs?
Foam tipped applicators are designed for use in specific environments like precision manufacturing, fiber optics, electronics, semiconductors, printing, aerospace, biotechnology, and pharmaceuticals to name a few.

Foam tipped cleaning swabs are available in a variety of tip shapes, sizes, and handle configurations.

Below we've included some product highlights to consider when making a selection from this category of tipped applicators:
PurSwab® General Foam Tipped Swabs
All of our industrial foam tipped applicators are made from soft, synthetic polyurethane foam. The foam is produced in sheet form and is converted to our strict specification. For these swabs we use 100 PPI (pores per inch) foam which provides good entrapment of particulate. Each tip is adhered to the swab handle with a hot melt adhesive or by thermal bond, making it both lint and residue free.
Ways to use a foam tip cleaning swab:
General cleaning swab - The foam cleaning swab is ideal for daily and general cleaning. For any environment, the foam swab is a cleaning kit essential.
Machine tool and mold cleaning – With the range of tip sizes and shapes available, the foam swab is the ideal choice for machine tool and mold cleaning.
Printer cleaning and maintenance - A long foam swab is the ideal swab for cleaning and maintaining your printers. The flexible foam tip and long handle make it easy for you to thoroughly clean those hard-to-reach places. When high absorbency is needed, choose a tip made with hydrophilic foam.
Application of adhesives, solvents, coatings, sealants - Foam swabs aren't just for cleaning. In fact, foam tip swabs are ideal for precision application of adhesives, solvents, coatings, sealants, decals and so much more. Make sure you have various tip-types on hand.
Removal of contaminants - Foam swabs are ideal for the removal of contaminants. The tip's properties make it easy to apply cleaning solution and break up stubborn contaminants.
Can be used wet (IPA, DI water) or dry - One of the benefits of using a foam swab over other swab types is that it can be used wet OR dry. The foam tip does not lose its integrity when wet in the way that fiber does.
Precision cleaning and inspection processes - When you need to prioritize precision in your cleaning process, foam swabs should be your first choice. With a variety of length, tip shapes, tip types, handle materials, and foam properties, there is a perfect foam swab for EVERY cleaning application.
Puritan Foam Cleaning Swab Examples
1105: 4", Small soft foam swab with polypropylene handle. Non‐abrasive tip good for cleaning surfaces.

1605‐PSF RECT: 5", Small rectangular foam swab with polypropylene handle. Used for coating rechargeable copier cartridges. Great to use in hard-to-reach areas.



1805‐PF RND: 5", Large round foam swab with polypropylene handle. General purpose cleaning swab for cleaning curved surfaces.
PurSwab® Foam over Cotton Tipped Applicators
These foam-over-cotton swabs incorporate the properties of cotton – extra cushioning and greater absorbency – in a non-shedding tip for use where lint needs to be minimized.

You will often use these with some sort of solvent, such as IPA, or DI water. Check out how they are used along with product examples below:
Foam-Over-Cotton Tip Cleaning Swab Uses:
Critical-environment, general cleaning swab - The extra absorbency and chemical resistance of these swabs makes them ideal for your critical environment. Rest assured your foam swab can handle your chemical applications and gentle scrubbing.
Applying adhesives or other solutions – can be used with IPA and DI water - The foam-over-cotton tipped swab is another great choice for applying adhesives, solvents, coatings, sealants, lubricants, and more.
Removing contamination - Because of its high absorbency, this swab type is great for applying cleaning solution AND removing contaminants with a single swab.
Foam-Over-Cotton Tip Product Examples
1806‐PCF: 6", Standard foam over cotton swab with polypropylene handle. General cleaning swab.

1806‐WCFL: 6", Large foam over cotton swab with wood handle. Ideal for cleaning large
surfaces, the tip is extra absorbent.

1806‐WCSF: 6", Small foam over cotton swab with wood handle.
Expert Tips for Using Foam Cleaning Swabs
Here are some tips for using foam swabs effectively:
1. Apply solutions directly to the foam tip
Instead of applying cleaning solution, solvents, lubricants, etc directly to the surface you're working on, it's a good idea to apply it directly to the foam tip of the swab. By applying it to the tip, you have more control over the amount of solution used. This reduces the risk of you oversaturating the surface.
2. Use gentle scrubbing and cleaning strokes
When cleaning, use gentle strokes and avoid applying too much pressure. Let the foam tip do the work. This will help prevent damage to the surface and ensure that the foam swab is effective in removing contaminants.
3. Explore different foam swab types for your unique application
There are so many foam swabs available with a variety of handles and tip types. Your cleaning kit should include a variety of options so you can choose the best foam tip type for your cleaning needs.
4. Avoid cross-contamination
Don't use the same swab in multiple areas, as this can lead to cross-contamination.
Use fresh cleaning solution and lubricants.
Follow safety guidelines and rules according to your unique environment.
When you're done, dispose of your foam swabs properly.
Still Need a Tip? Contact Us Today
So, if you're in the market for a swab that can get into hard-to-reach areas while cleaning safely and thoroughly, our industrial foam tipped swabs are for you. Please refer to our foam swab cross reference sheet to help you in your search.
Puritan's line of industrial and critical environment swabs is manufactured in an ISO:2008 certified and CE-compliant facility providing reliable, consistent performance to ensure the quality of your end product. And please remember, we are always here to discuss your custom order needs.