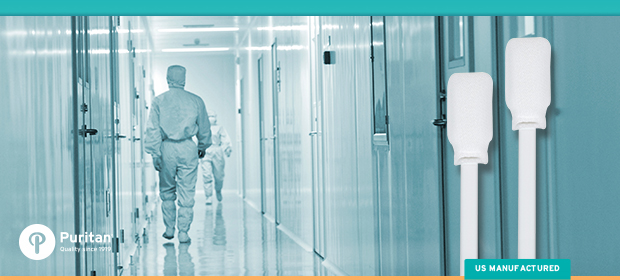 When you're producing vaccines and pharmaceuticals, it's essential that your manufacturing environment is free of contaminants.
Threats don't come from any one source. Biological contaminants include pathogens introduced by operators or mold or fungus introduced or developed during processing. Particulate contaminants may include debris introduced or generated by handling of device components such as fiber, dust, plastic particles, metal or glass pieces, or lubricants.To guard against these contaminants, you need to follow and document your equipment-cleaning procedures and environmental-testing protocols. Properly executed, these procedures will help you detect and address any industrial or pathogenic contaminants in the manufacturing environment.
Technicians, appropriately trained and dressed in cleanroom-validated garments, look for hazards that could result in contamination. With detailed procedures in mind, they utilize the tools needed to clean and assess the manufacturing environment.
Swabbing Keeps Environments Contaminant-Free
Swabs are the single-use tools most commonly used in cleaning and environmental sampling protocols. They are cost effective and user-friendly, and because you only use them once, you don't have to worry about transferring contaminants from one surface to another.
So what's the best swab for keeping processing equipment contaminant free? Swabs with knitted polyester fabric-tipped applicators work great, thanks to their super-absorbency and low lint properties. They are fabricated without adhesive, guaranteeing no unwanted material is transferred to the surface being cleaned. With a process-approved solvent, these swabs will clean surfaces and equipment of biological and industrial contaminants without leaving particles or other contaminants behind.
Among the swabs you can choose are:
Was the Cleaning Process Effective?
When you're done cleaning, you can test the effectiveness of your cleaning process by swabbing with an environmental sampling swab. Your manufacturing facility's quality assurance (QA) lab will sample routinely to assure all surfaces are free of contaminants by processing the environmental swabs to look for biological or other contaminants.
These environmental swabs may be foam-tipped, perhaps pre-moistened, like these:
Or you can use a polyester-tipped swabs with transport media, such as the Puritan ESK sampling kit - 4ml neutralizing buffer (SKU#: 25-83004 PD NB). Other options include additional foam- or fiber-tipped swabs, such as the Puritan 5" sterile large foam swab w/polypropylene handle & thumb stop (SKU#: 25-1607 1PF SC). Your QA lab will specify which cleaning and specimen collection swabs are best for the steps taken to assure nothing is overlooked.
Conclusion
Regardless of the swabs you use, your mission is always the same – to assure that the manufacturing process of all vaccines and pharmaceuticals/nutraceuticals that are intended to protect and heal do not result in harm to any user, human or animal.
For details on products, please visit our website www.puritanmedproducts.com. For samples and product support, please contact our sales team at sales@puritanmedproducts.com.
SOURCES:
1. Environmental Monitoring of Clean Rooms in Vaccine Manufacturing Facilities: Points to consider for manufacturers of human vaccines. World Health Organization. November, 2012. Retrieved November 14, 2014 from: http://www.who.int/immunization_standards/vaccine_quality/env_monitoring_cleanrooms_final.pdf
2. Pharmaceutical clean room-an overview. Monday, Shibam. Acedemia.edu. Retrieved November 14, 2014 from: http://www.academia.edu/7422756/Pharmaceutical_clean_room-an_overview
3. CLEANROOMS IN PHARMACEUTICAL PRODUCTION. Kitain, Mikhail. Bachelor's thesis, Building Services. March, 2010. Retrieved November 17, 2014 from: https://publications.theseus.fi/bitstream/handle/10024/13196/Kitain_Mikhail.pdf?sequence=1