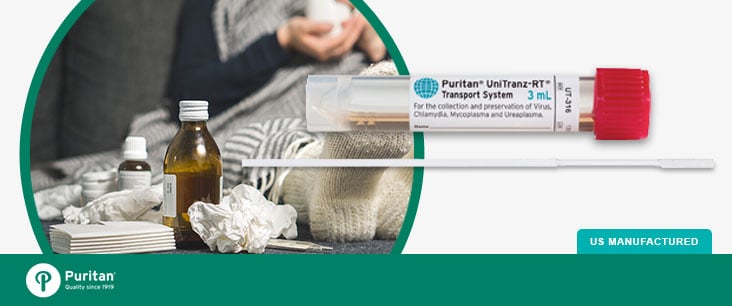 The 2019-2020 flu season could be a severe one. The American Academy of Pediatrics notes that last year's flu was moderately severe and was the longest-lasting U.S. influenza season in the past decade.
In addition, health professionals say, while fewer may get the flu this season, those cases are expected to be severe. As of late September, one flu-related death in the United States had already been recorded.
We thought it would be helpful to share a brief Question and Answer session on how the experience of last season shaped our approach to this season.
Q: What are the top lessons Puritan learned from the 2018-2019 flu season?
A: Here are a few lessons learned.
Be nimble. We've adapted our approach to better meet the needs of all of our lines of business: Flu, RSV, Strep and other infectious diseases, forensics, food protection, DNA-based tests of all kinds – and even controlled environments. We're better prepared to adapt production based on the needs at hand.

Provide readily available cross-reference information

. In addition to continually renewing stock of Puritan brand items, we're committed to being a better resource for distributors and end-users who need products in short supply elsewhere. Puritan manufactures specimen-collection devices found in many commercially available tests as well as comparable ones offered in our Puritan brand that are used in POCT. When the item you request is in short supply, we will find you a comparable alternative. The important thing is that the end-users get the products they need.
Be prepared for the unexpected. No one really knows how severe a flu season is going to be. People are so busy with their day-to-day business, it's hard to look ahead. By the time they do, they're in a crisis and they need products quickly. As a manufacturer, we are constantly evaluating trends in purchases and efficiencies of our operation, to be as prepared as possible for whatever the season brings.
Q: How did the 2018-2019 flu season affect Puritan's approach to this year's flu season?
A: While we plan for the increased demands that every flu season brings, the challenge has been maintaining ample levels of products needed for flu and seasonal illness testing while at the same time addressing the growing need for specimen-collection devices in other areas such as forensics and DNA/genetics/genomics. We've addressed this challenge with investments in new equipment and increased staff. This growth shows no sign of slowing down, and it will be answered through these investments. We are now producing more product, more efficiently.
Q: Which flu-test related products were among the top-sellers in 2018?
A: While a large amount of the product Puritan produces goes into well-recognized test kits for flu and other ILIs (influenza-like illnesses) our Puritan brand items were also in high demand. Here UniTranz-RT® universal transport media devices and HydraFlock® swabs for NP, nasal and throat specimen collection led the way, while familiar polyester and rayon tipped applicators suited many applications.
Q: If you had one message to customers regarding the upcoming season, what would it be?
A: You can count on us – we understand the importance of on-time deliveries. Please help us help you by contacting your supplier and placing your order early. We've been producing high-quality products right here in the USA for 100 years now and we're committed to meeting your needs.
Your Puritan Territory Sales Manager is always available to assist.