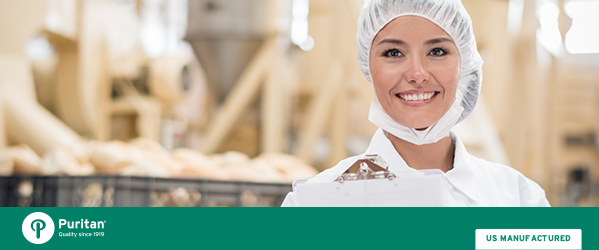 If you produce a food product for sale to a consumer, whether a baked good, a cold cut or a ready-to-eat snack, your operation depends upon your reputation for selling high quality items that taste good and are reliably and consistently safe to eat. As a processor, you're responsible for not just the ingredients and processes required to produce your finished goods, but also for every area of your plant.
That's why you need to have a food safety professional on staff.
Role and Responsibilities
Today, certified food protection managers must pass a food safety exam administered by an accredited body. You can be sure these professionals are well-trained and understand the weight of their responsibilities.
While they can direct the safety plan for all employees, they cannot rely on general guidelines to assure purity of product. The Food Safety Modernization Act provides guidance, but a plan specific to the operation must be developed. This plan will be implemented by the food safety professional on staff to assure nothing is overlooked and every possible area of contamination is monitored.
Environmental Monitoring
Monitoring might begin with the loading dock and the warehouse, and then move to the equipment (conveyors, hand trucks, bins) that brings materials into the processing area, followed by the surfaces that will come in contact with food ingredients and food in process. Those surfaces include counters, scales, prep sinks, and anything else that might come in contact with food or hands that will touch foods. Mixing equipment, refrigerators, microwave ovens and packaging equipment must not be overlooked.
Walls, floors, water supplies, drains, ice machines and air handling equipment are all components of the food processing environment and also require monitoring. Additionally, the food ingredients and finished products themselves must be checked for contamination which could be microbial, chemical, foreign matter in the environment, or potentially intentionally introduced.
There is much to know and many steps to take to assure food safety. With a plan in hand, implementation will require more than the cooperation of your management team and production staff. When monitoring for microbial contamination, it will require a lab, on-site or contracted, to process samples taken from the critical points in your operation, and testing supplies.
The Right Tools For the Job
For large areas such as tile walls, counters—or even beef carcasses—Puritan offers two styles of large, foam-tipped applicators in EnviroMax® and EnviroMax Plus®. You can opt for a round tip or pointed tip, and for dry or pre-moistened. To learn how to swab meat for pathogens, check out our instructional video.
For small or tights spaces, you'll find Puritan's ESK® is very user-friendly, and brings you four different transport media products so you can choose the medium best suited to the area being sampled and the potential contamination. Choices are Neutralizing Buffer, Butterfield's Solution, Letheen Broth, and Buffered Peptone Water. These four media are available in 4ml and 10ml fills and all include a 3" polyester-on-plastic swab securely attached to a screw cap.
With conscientious planning and practice, along with the proper tools, your operation will be well equipped to ensure the products you take to market are wholesome and your reputation remains sterling.