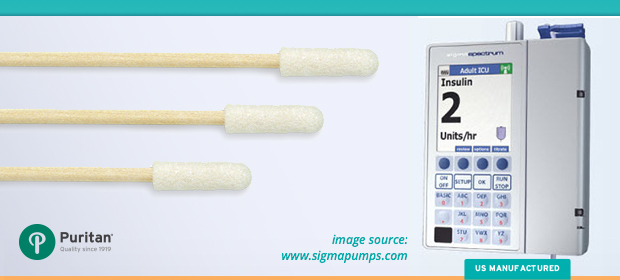 Without proper cleaning and maintenance, the efficacy and safety of commonly used medical devices is severely compromised. Here's why one biomedical technician prefers Puritan foam tipped swabs for cleaning infusion pumps.
What are Infusion Pumps?
Infusion pumps deliver controlled dosages of medications, nutrients, fluids or other treatments directly into a patient's body. Without proper care on the part of both the clinician and the medical technicians, the necessarily precise functionality of these essential medical devices cannot be ensured.
Proper Cleaning of Infusion Pumps is Essential
When infusion pumps are not maintained and operated correctly they can malfunction. This can increase the chance of medication errors and threatening the wellbeing of the patient.
Simon Myers, a Biomedical Tech 1 who works at Erlanger Health System in Chattanooga, TN, has found that Puritan's PurSwab foam tipped swab (1803-WF), when moistened with alcohol, works best for cleaning and maintaining infusion pumps.
Simon is responsible for cleaning over 1,200 pumps as part of the pumps' annual maintenance. The specific infusion pump that he maintains is a SIGMA Spectrum Infusion System - a smart infusion pump designed to tightly control the delivery of fluids via the use of advanced drug library software.
In addition to proper daily operation and maintenance, these machines must be thoroughly cleaned and free of particulates in order to ensure optimal functioning. During his annual maintenance, Myers focuses specifically on the "access point 2" of SIGMA Spectrum Infusion System, located in the door of the pump.
The SIGMA Spectrum Operator's Manual advises techs to use soft swabs moistened in the appropriate cleaning solution to clean the speaker vent, power adapter, door release and keyhole, and pumping channel.
Why Puritan Foam Tipped Swabs?
As Myers can attest, our 1803-WF swab is the perfect tool for the job. With a firm wooden handle and a soft, lint and residue-free tip, our PurSwab foam tipped swab is ideal for this type of critical environment cleaning. 

Want to learn more about using Puritan's foam tipped swabs to clean critical environments, cleanrooms and medical devices? Contact one of our knowledge product specialists today.