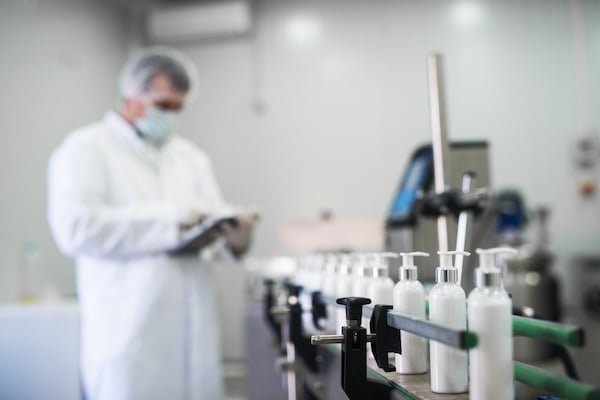 Are you looking for a resource that outlines everything you need to know before purchasing an environmental sampling product for your business? You've come to the right place.
From starting with the basics of what environmental sampling products are, to getting into the details of which sampling product is best for your process, we're breaking down all of the need to know information to inform your purchasing decisions.
What are environmental sampling kits?
From food to pharmaceuticals, cosmetics, and more, having a safe environment is key to your business success. Environmental sampling swabs and collection devices are used to test work areas for harmful chemicals and invisible pathogens that could halt your production efforts. Through carefully swabbing and testing the environment, you can identify contamination before you move forward with production.
For example, our ESK® environmental sampling kits are used for environmental monitoring, hygiene control, sanitization programs and bioburden determination across a range of industries, from food safety to pharmaceuticals.
What is included in an environmental sampling kit?
Environmental sampling kits can come in various shapes, sizes, and testing fluids depending on your unique business needs. Selecting from different handles, tips, and fill options will give you results that will aid you in spot checking nearly any surface, with high quality results you can count on. While your kits can be highly customized, all kits will have a:
Container
Cap
Swab
Sampling medium
At Puritan, in order to ensure our ESK® sampling kits were appropriate for the varied applications of our diverse clients, we spent time in the marketplace with different end users. We studied your process, listened to your needs, then went to our R&D team to design the best environmental sampling swabs for any application.
What we ended up with was a line of environmental sampling products suitable for a wide array of applications. All of our ESK® sampling kits have a 3" polyester tip swab attached to a quick-turn, leak resistant cap, giving you optimum control.
What is an environmental sampling medium?
Puritan's four ESK® environmental sampling kits differ from one another in medium option, all available in either 4 ml or 10 ml configurations, each with its own specific use:
Neutralizing Buffer
Buffered Peptone Water
Letheen Broth
Butterfield's Solution
Each of these solutions allows you to test for different pathogens, giving you peace of mind and ensuring that your test results will be accurate and repeatable. We'll get into the details further down when we define which product would be best for your operation.
Which industries benefit from environmental sampling kits?
Industries that utilize environmental sampling are typically highly regulated, requiring adherence to health and safety protocols. The key industries that require this include:
Medical
The medical industry must be sterile and clean to ensure patients are not subjected to harmful germs while undergoing care. From swabbing surgical rooms, to cleaning medical instruments, ongoing environmental sampling is needed to ensure it's safe for healthcare professionals to carry out their jobs.
Veterinary
Similar to the medical industry, veterinarians require a sterile environment when caring for sick animals. All and all, most of the same rules apply to vets that are required in the medical industry.
Pharmaceuticals / Biotech
Having a clean environment free of pathogens is required in the manufacturing process to help ensure pharmaceuticals and biopharmaceuticals are safe for patients to use.
Cosmetics
While the FDA doesn't have as stringent of oversight for cosmetics as it does on food and medicines, it still oversees cosmetic development to ensure they are safe for people to use.
Food preparation
This one should be a given because we all want our food prepared in an environment free of harmful chemicals and pathogens (such as salmonella, staph or e coli). From food preparation to packaging to serving, there are stringent practices in place to ensure food is safe to consume.
No matter what industry you're a part of, it's important to recognize the unique needs of your business in order to purchase the appropriate product. Which leads us to…
Which environmental sampling product is right for your application?
Need help determining which of our environmental sampling kits is right for your specific application? We're sharing details of the four different options:
Neutralizing Buffer
Neutralizing Buffer is recommended for use in microbiological examination of surfaces for food and dairy products. This medium has the ability to inactivate the bacteriostatic effect of chlorine as well as quaternary ammonium compounds.
This means after cleaning surfaces and food equipment with disinfectants, swab samples are taken to examine the effectiveness of the disinfectants. Neutralizing buffer medium neutralizes the antibacterial effect of such disinfectants on the swabs, thus allowing the bacteria to survive if they are present.
For example, Staphylococcus aureus is commonly found in post food processing contamination, which is generally due to human contact or contaminated food contact surfaces. The presence of a large number of Staph aureus bacteria in food indicates poor handling or poor sanitation.
Buffered Peptone Water
Buffered Peptone Water is used for pre-enrichment of injured salmonella species from food specimens prior to inoculation to a selective enriched medium for isolation and identification.
When salmonella species are present in food, certain food processing conditions such as heat, desiccation, preservatives and pH changes may injure bacteria cells. Therefore pre-enriched nonselective buffered peptone water medium allows for injured cells to repair and facilitate the recovery of salmonella. Peptone in the medium contains carbon, nitrogen, vitamins and minerals which injured cells consume to recover.
After salmonella cells are repaired and multiplied in the Buffered Peptone Water, they are transferred to a selective enriched medium for isolation and identification.
Letheen Broth
In the food and cosmetic industries, all work stations, equipment, and utensils used in daily processes are cleaned using different methods and disinfectants. Testing using Letheen Broth allows manufacturers to determine the effectiveness of their cleaning program by taking swab samples of cleaned equipment.
After collection, the samples are then transferred to the vial containing Letheen Broth medium, which neutralizes the surface disinfectants, chlorine, or fluorides, facilitating an environment in which bacteria may grow. The addition of polysorbate 80 to the medium neutralizes the surface disinfectants. Lecithin is added to neutralize quaternary ammonium compounds.
Butterfield's Solution
Butterfield's Solution is used for dilution and enumeration of microorganisms in water, food, dairy, and pharmaceutical products. When the number of bacteria in a sample is too high (and thereby difficult to enumerate), serial dilutions are prepared in tubes containing Butterfield's Solution.
A sample from each tube is then transferred to a culture medium plate, incubated, and read after 24 hours. The plate with a bacteria count between 30-300 is selected and multiplied by the same dilution factor to obtain the number of bacteria in the original sample.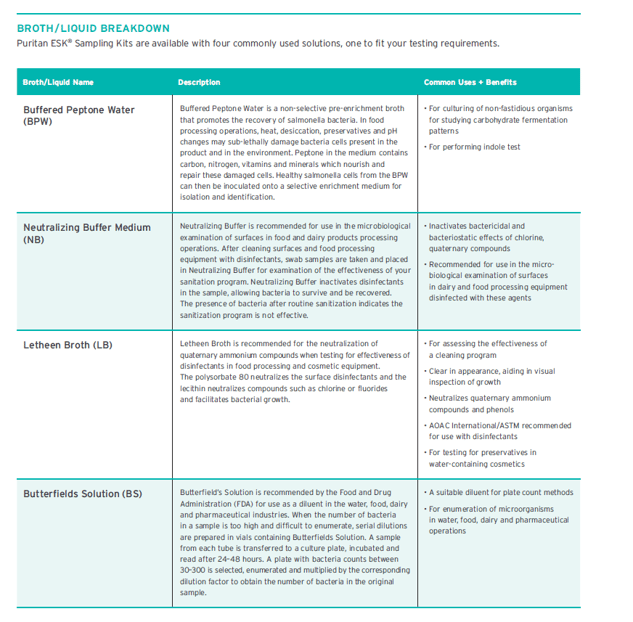 Don't see the medium you're looking for? We also offer custom media solutions for many applications.
Ready to Purchase Your Best-Fit Environmental Sampling Kit?
Hopefully this brief overview of the environmental sampling mediums contained in our ESK® sampling kits has given you a better idea of how to choose the right product for your specific application.
If you have any questions, or you would like to learn more about our ESK® line of environmental sampling products, don't hesitate to contact one of our knowledgeable product specialists today.