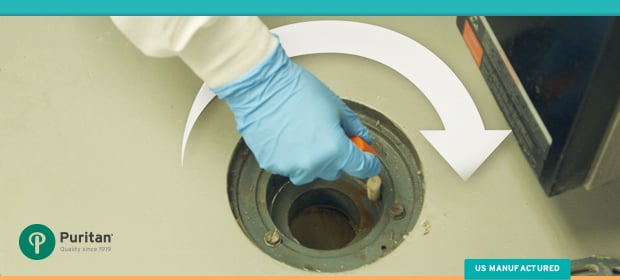 Whether you work in healthcare, food service, beauty, or industrial manufacturing, you've likely encountered at least one suspicious looking floor drain in your time on the job. Some of the gunk you encounter in a typical drain is pretty harmless - but what happens when it's not? Could your dirty drain be harboring something sinister?
Puritan EnviroMax Plus® Collection Kit
An environmental surface sample is the easiest way to find out. In this instructional video, we show you how to collect an environmental surface sample from a floor drain using Puritan's EnviroMax Plus® Collection Kit. A step-by-step transcript is below.
How to Collect an Environmental Sample from a Floor Drain
Remove floor drain grid.
Put latex gloves on hands.
Hold the Puritan EnviroMax Plus® vial at a horizontal angle to prevent contaminants from entering the vial.
Remove Puritan's EnviroMax Plus® swab from vial, by holding the cap and twisting counterclockwise.
Scrub the dry residue from the floor drain walls by applying firm pressure and moving the swab in a clockwise circular motion for a minimum of 10 revolutions.
Rotate the swab as you go to ensure proper sample collection on both sides of the swab.
Upon completion of sample collection, aseptically return swab into corresponding vial holding the vial at a horizontal angle to prevent contaminants from entering.
Care should be taken not to touch the swab and/or the swab shaft, in order to prevent cross-contamination.
Label vial with appropriate information.
If immediate testing cannot be performed, place samples in a refrigerated area.
Whatever your industry, part of your responsibility as an administrator is to ensure the safety of your employees and your customers - and that means making sure the workspaces where you operate are clean and free of bacterial or viral pathogens. We hope after viewing this video that you have a better idea about how to accurately sample a floor drain to validate your cleaning and sterilization procedures.
If you have any questions, or you would like more information about our EnviroMax Plus® Collection Kit, please contact one of our knowledgable product specialists today.