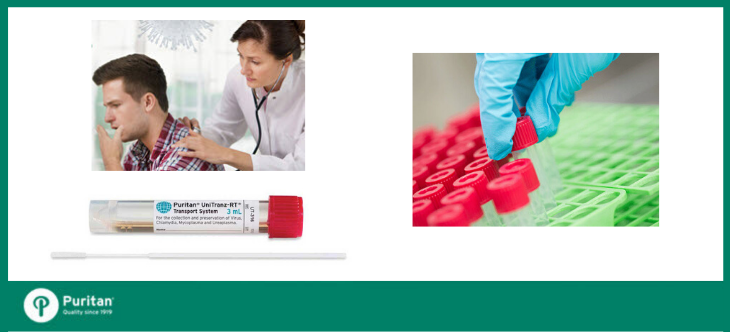 How does flu season affect your workday in 2019-2020? More foot traffic in your practice? An increased workload of testing and processing? A nagging urge to double-check your supplies? All in all, for medical professionals like you, flu season is typically a busier, but manageable time of year.
That's quite a change from a century ago, when the deadly 1918 flu pandemic swept across the world. Some 500 million people were estimated to have been infected by the 1918 H1N1 flu virus.
Fortunately, at that time one Lloyd Cartwright remained healthy enough to move his Minto Toothpick & Specialty Company from Michigan to Maine and lay the foundation of what would become Puritan Medical Products. Today, Puritan plays a role in the detection and diagnosis of illnesses like the flu.
Still, how did we get from a virtual death sentence to a more hectic workday over the last century? Here's a look back at that deadly pandemic and how public health officials treat flu today.
Death toll greater than WWI
At the time of the 1918 pandemic, scientists had not yet discovered flu viruses. But public health officials know today that it was caused by an influenza A (H1N1) virus. At least 50 million people died from their symptoms, including about 675,000 Americans. These numbers exceed the military and civilian combat casualties of World War I (1914-1918), which was still raging in Europe.
In fact, the 1918 pandemic actually caused the average life expectancy in the United States to drop by about 12 years for both men and women.1
3 things to know about the 1918 pandemic
The 1918 flu virus spread quickly. In 1918, people fell very sick, very quickly. Outbreaks of flu-like illness were first detected in the United States in March. More than 100 soldiers at Camp Funston in Fort Riley Kansas fell sick with flu. Within a week, the number of cases quintupled. The average age of those who died during the pandemic was 28 years old.
There was no prevention or treatment in 1918. Because scientists had not yet discovered flu viruses, there were no laboratory tests to detect, or characterize these viruses. There were no vaccines to help prevent flu infection, no antiviral drugs to treat flu illness, and no antibiotics.
Illness overburdened the health care system. In the fall of 1918, the United States experienced a severe shortage of nurses during the flu pandemic because most were stationed at military camps in the United States and abroad. Congress approved a $1 million budget for the U. S. Public Health Service to recruit 1,000 physicians and more than 700 registered nurses.
Prevention and treatment today
Developments since the 1918 pandemic include vaccines to help prevent flu, antiviral drugs to treat flu illness, antibiotics to treat secondary bacterial infections such as pneumonia, and a global influenza surveillance system with 114 World Health Organization member states that constantly monitors flu activity.
But the threat of a future flu pandemic remains. One could emerge anywhere and spread globally.2
In the United States, the Centers for Disease Control and Prevention (CDC) leads efforts to protect Americans and the world from the threat of a future pandemic.
CDC works with domestic and global public health and animal health partners to monitor human and animal influenza viruses. This helps CDC identify which viruses are spreading, where they are spreading, and what kind of illnesses they are causing.3
CDC also develops and distributes tests and materials to support influenza testing at state, local, territorial and international laboratories so they can detect and characterize influenza viruses.
You can access some of the CDC literature among the many educational resources you'll find in the Puritan flu resource portal.
There, you can:
Read up on vaccination, infection control, prevention, treatment and more on this news site,

CDC for Health Professionals

Download a free infographic on how to swab for the flu
Get quick access to all our best flu-related articles
View our videos on how to swab for flu (and more)
See where and how to buy our flu products
Conclusion
Diagnostic tests for identifying influenza are now available and they are improving over time. Current rapid tests for flu, also known as RIDTs, provide results within 15 minutes and have sensitivities ranging from 50-70%. Recently, new "rapid molecular assays" have become available that are timely and much more accurate than RIDTs.
Just as important as these advancements in diagnostic tests are the improvements that have been made in laboratory testing capacity both within the United States and globally.4
And as you know, we can all play a part in reminding friends and family that they can help prevent the spread of flu. Keep after them to be mindful of social distancing, cough etiquette and hand washing. Every small, preventative step is well worth it.
Endnotes