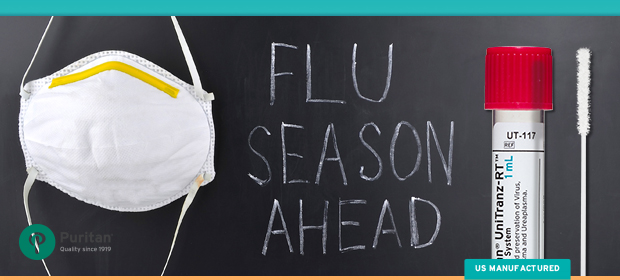 Ebola. Enterovirus. What's next? Let's not forget about the United States' most prevalent and insidious virus: the flu.
Last week, a toddler in Delaware was identified as the first influenza case of the 2014/2015 year. Flu season is officially underway. We send out hundreds of viral transport media kits for flu testing and field dozens of questions from healthcare professionals about what equipment to have on hand.
To that end, we've compiled all of our flu-related content in one place: Puritan's Flu Central. We'll continue to update this page with more flu content as we create it, so check back often or subscribe to our blog to be updated any time this information changes.
Is your team prepared to collect and test influenza specimen samples? We created a handy infographic that you can reference online and/or print out for your office as a reference for your staff in handling flu season.
Bookmark our step-by-step video about how to collect a nasopharyngeal swab specimen for flu testing and diagnosis. We hope you and your team will find it a useful resource that you can reference any time you need a quick refresher. Read More.
It's no surprise that young children and the elderly have a much greater risk of complications related to the flu than other demographics; but last year McMaster's School of Medicine and the World Health Organization released a study suggesting other demographics are more vulnerable, than previously thought, too. Read More.
Puritan's UniTranz-RT™ Universal Transport System is capable of maintaining viral respiratory swab samples in qRT-PCR for up to 192 hours at room temperature. Read More.
At the start of the 2013/2014 flu season, we rebranded our universal transport system products. Our popular media transport system, used to test for virus, chlamydia, mycoplasma and ureaplasma, is now be sold under the brand name UniTranz-RT™. Read More.
During the busy flu season, many medical suppliers and single-use-products manufacturers aren't able to maintain stock of their essential flu testing products. However, because Puritan manufactures all of our single-use-medical-products onsite in our advanced facility, availability is never a problem. When it's time to order your essential flu products, you can rely on Puritan. Read More.
Puritan is your one-stop-shop for all things flu-related. Got questions about which products to stock or how to use them? Be sure to contact one of our knowledgeable product specialists.