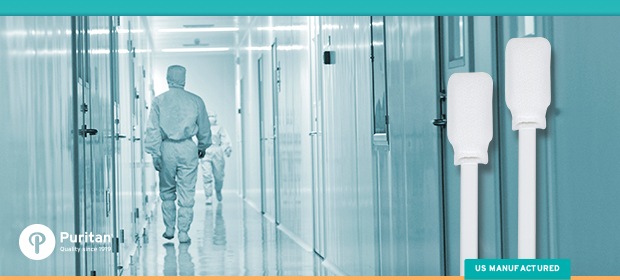 Pharmaceutical manufacturing environments necessitate the implementation and validation of standard cleanroom procedures to ensure vaccinations and other pharmaceuticals are free from unacceptable levels of contaminants.
Puritan Medical Products manufactures a number of environmental monitoring products appropriate for cleanroom sanitation and validation, including our line of knitted polyester swabs and our foam-tipped environmental sampling swabs.
Why Swab Type Matters in Pharmaceutical Manufacturing
From establishing guidelines for attire and hygiene to enforcing particulate monitoring standards, there are dozens of considerations when designing or updating a pharmaceutical cleanroom program, including choosing the right swabs.
While our sterile environmental sampling foam tipped swabs may be more appropriate for plating collected specimen for environmental monitoring, knitted polyester swabs and certain foam-tipped are commonly used for the actual cleaning of critical environments. Here's why those differences matter.
Knitted Polyester Swabs for Cleaning Critical Environments
Fabric-tipped applicators like our knitted polyester swabs introduce the least amount of contaminants to manufacturing processes.
Our lint-free knitted polyester swabs are ideal for:
Manufacturing or refurbishing of electronic and communication devices

Instrumentation and medical device manufacturing

Applying adhesives or other fluids

Removing residues and particulates

Critical environment cleaning
These tips, made from a woven polyester fabric, are commonly constructed without soluble adhesives. This assures the cleanliness of process required for your critical environment.
Sterile Foam Tipped Swabs for Validating Sterilization Procedures
If you're using swabs to not only clean your sensitive manufacturing equipment, but also validate your cleansing procedures; you may want to select a swab especially designed for environmental sampling. Puritan manufactures both polyester and foam-tipped swabs appropriate for cleanroom validation.
Sterile foam & polyester tipped swabs can be used to collect samples from irregularly shaped equipment like nozzles, tubing, buttons or corners; as well as large areas like sampling countertops after cleaning.
The World Health Organization recommends that broths or other liquids used for clean room validation swabbing should contain disinfectant neutralizers if necessary.
Whatever swab-type you need to maintain and validate your pharmaceutical manufacturing cleanroom, Puritan has the solution. Want more information? Click below to contact one of our knowledgeable product specialists today.
SOURCES:
1. Environmental Monitoring of Clean Rooms in Vaccine Manufacturing Facilities: Points to consider for manufacturers of human vaccines. World Health Organization. November, 2012. Retrieved November 14, 2014 from: http://www.who.int/immunization_standards/vaccine_quality/env_monitoring_cleanrooms_final.pdf
2. Pharmaceutical clean room-an overview. Monday, Shibam. Acedemia.edu. Retrieved November 14, 2014 from: http://www.academia.edu/7422756/Pharmaceutical_clean_room-an_overview
3. CLEANROOMS IN PHARMACEUTICAL PRODUCTION. Kitain, Mikhail. Bachelor's thesis, Building Services. March, 2010. Retrieved November 17, 2014 from: https://publications.theseus.fi/bitstream/handle/10024/13196/Kitain_Mikhail.pdf?sequence=1