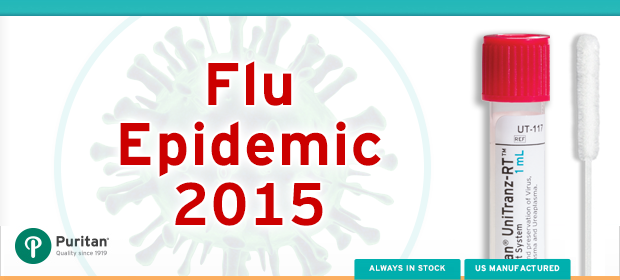 2015 started off with a bang, and unfortunately so did the flu virus. Having swiftly spread throughout the country and increased in intensity from past years, 2015's dominant strain, H3N2 is cause for concern. The CDC has reported that the flu virus has reached widespread levels, already causing the deaths of 21 children this season. While the CDC still strongly suggests getting vaccinated, they are also aware that the vaccine is not as effective as they had originally hoped, due to the difference in strain from years prior.

New Year New Flu
To fight the epidemic as well as possible, the CDC has recommended to clinicians that anyone with high risk factors (children, the elderly), or anyone displaying flu-like symptoms such as fever, coughing, and stomach upset, should be immediately tested in order to reduce the possibility of serious outcomes such as hospitalization. While no one can predict what the remainder of the flu season will be like, or how long it will last; the best way to react to the crisis is with precautionary steps such as washing hands, staying home when sick, and testing conclusively if symptoms are present.
Puritan is Here to Help
At Puritan, we produce the high-quality products that make it simple to effectively collect, transport, and process viral specimens in order to yield a timely diagnosis. To do our part with 2015's flu epidemic, we've made it easier than ever to get the flu-related products you need, right when you need them. In order to conclusively test for the flu, a nasopharyngeal swab specimen is needed. Our UniTranz-RT™ Transport Systems with PurFlock Ultra® flocked swabs are in stock, ready to ship, and never on backorder, so you can order and receive your product in as little as one business day!
Get What You Need, When You Need It!
During a crisis like 2015's growing flu epidemic, most medical suppliers and single-use-products manufacturers are unable to produce products fast enough to maintain stock of their essential flu testing products. Part of their problem is relying on shipments from the oversea factories that make their products. At Puritan, we proudly manufacture all of our single-use medical products here in the USA in our advanced facility, so availability is never a problem! When you need essential flu products to combat a growing epidemic, you can rely on Puritan!
Products, Procedures and Precautions
With so many single-use medical product manufacturers out of stock, you can take a breath of relief in knowing that Puritan's advanced UniTranz-RT™ Transport Systems are readily available for immediate purchase with expedited shipping. These products are safe, easy to use, and effective for culturing virus samples and conclusively diagnosing the flu. While those other manufacturers offer similar products, UniTranz-RT™ has unique features that set it apart. Puritan's UniTranz-RT™ flu testing system includes the PurFlock Ultra® swab which has proprietary multi-length fibers to provide for faster collection and elution than traditional spun swabs. At a time when prompt testing and treatment is so important, you can trust Puritan to provide the highest quality products when you need them.
Flu Information and Resources, All In One Place
At Puritan, we will stop at nothing to fight this epidemic. Not only do we guarantee that our media transport systems and swabs are in stock, and will ship quickly, we take the time to provide our customers and trusted distributors with the latest flu information and resources. Simply watch our step-by-step video to learn how to collect a nasopharyngeal swab specimen, or download our influenza sample collection infographic to print out for your office or for your patients to take home. For further product details, view our Flu Product Ordering Information PDF. From unbeatable products to fast shipping and reliable resources, Puritan is here for you during this stressful time.

Call 800-321-2313 to speak with one of our product specialists and place your order today.